18 THINGS YOU MIGHT NOT KNOW ABOUT DIA DE LOS MUERTOS CELEBRATIONS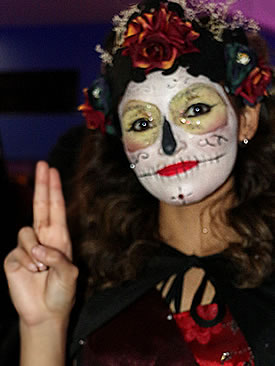 The Day of the Dead — or El Día de los Muertos in Spanish — is about as Mexican as it gets, but this unique holiday has been gaining popularity outside of its native country for a while now thanks to its macabre humor and distinctive art. Anyone shopping for Halloween decorations has probably seen at least a few examples of it: colorfully painted skulls, images of festive skeletons dancing and decked out in garish hats, etc.
But the Day of the Dead isn't just Mexico's version of Halloween. There's a lot more to it than that. Here are some facts you might not have known about this unique holiday but probably should:
1. It's not celebrated on the same day as Halloween
Contrary to what a lot of people seem to think, El Día de los Muertos is traditionally celebrated on Nov. 2. However, it is part of a multi-day sequence of festivities that usually begins on the evening of Oct. 31. Collectively, the entire celebration is sometimes referred to as the Days of the Dead.
2. The day before is dedicated to remembering dead children
El Día de los Muertos is meant to honor the spirits of deceased adults_._ On Nov. 1, however, families gather to remember the spirits of children who passed away prematurely. This is called either El Día de los Inocentes (the Day of the Innocents) or El Día de los Angelitos (the Day of the Little Angels).