DENVER FASHION SHOW CELEBRATES CHICANA CULTURE & STYLE AS RESISTANCE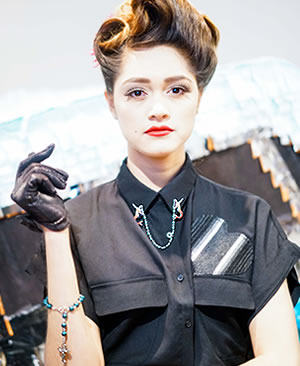 It's not often a fashion show moves people to tears, but Viva la Sirena evoked palpable emotions from attendees. In an intimate setting at Museo de las Americas, the immersive experience began with a blessing by GRUPO TLALOC Danza Azteca, a traditional group of Chicano and Mexicano families dedicated to preserving and upholding the spiritual way of life of the Aztec culture. Dancers clothed in handsewn, beaded garments moved to rhythmic drum beats, enchanting and inspiring the audience.
Following the blessing, models commanded the runway in looks that were a collaborative effort by local designer, Alejandra Peralta, Vanity Dollz founder, Cha Cha Romero and jewelry designer, Xencs L. Wing. The wearable collection, called "Style as Resistance," was influenced by the Pachuca of the 1940s. The Pachuca's rebellious flare broke the boundaries of beauty among American women. "The Pachuca were the first women to gender bend, and they really set up Hollywood's looks at that time, but a lot of people don't know that's where fashion came from," said Romero. "It's heartbreaking, but after the Zoot Suit Riots, the Mexican culture became very political." The Zoot Suit Riots were a series of conflicts between American servicemen and Mexican American youth in Los Angeles in 1943. The suits were considered unpatriotic because they contained a lot of fabric that was rationed during World War II. It was a significant moment for race relations at the time, centered around fashion.
Peralta approached Pachuca style with a modern twist, mixing masculine and feminine pieces in an effort to connect today's...