THANKSGIVING DAY IS CELEBRATED BY U.S. LATINOS WITH SOME MIXED EMOTIONS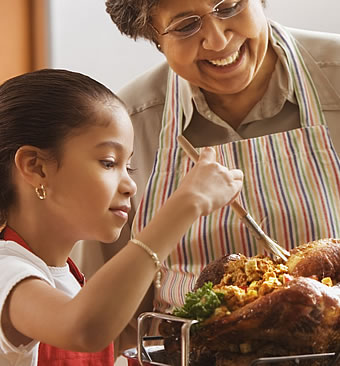 LOS ANGELES, CA - In the United States, "Thanksgiving Day" is most usually called "Dia de Gracias" by U.S. Latinos. It is also often called "Dia de Pavo" as an informal equivalent to the "Turkey Day" expression that is quite commonly heard being used by all other Americans using the English language. In the local neighborhoods of U.S cities across the nation, it would be extremely rare to hear the expression "Día de acción de gracias" which is the Hispanicized transliteration of the French term "Jour de l'action de grâce" used for the Canadian Thanksgiving Day which is celebrated on the second week of October.
In the United States, Thankgiving is a celebration that aims to bring people together in a main feast that is irrespective of the backgrounds of any individual invited to sit at the Thanksgiving Day table. It is celebrated as a way of bringing together a diversity of people from many backgrounds, spiritual faiths, lifestyles, and nationalities.