CANELO ALVAREZ OFFERS ADVICE TO NATE DIAZ ON MCGREGOR TRILOGY MATCH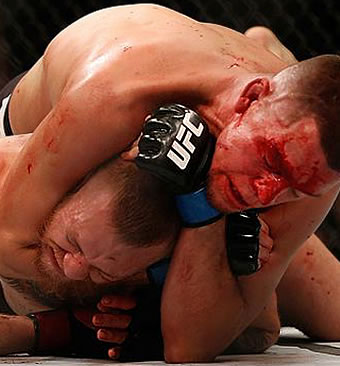 WBO light middleweight champion, and pound-for-pound No. 1-ranked boxer, Canelo Alvarez recently spoke to Fight Hub TV to discuss a potential trilogy bout between Nate Diaz and Conor McGregor.
The two UFC stars now share one win over another after McGregor avenged his initial loss to Diaz back in March, when he took home a majority decision win over the Stockton Strangler in their main event clash at UFC 202 in August.
When Canelo was asked what advice he has for Diaz heading into a potential rubber match with 'Notorious', the Mexican star had this to say:
"Well he's a professional in his sport. I think the only piece of advice is conditioning. If he had the necessary condition to finish off McGregor in the third after what happened in the second he would've finished him, but he came out in the second looking like he was fatigued. So I believe just conditioning but we also don't know what's happening behind the scene with him.
"They say he had a messed up rib and knee. That's why I tell you, we don't know what's going on in training and behind all that. If something happened to him, but if he would of brought the necessary conditioning to be able to finish him it would have been a different story."
When asked what message does he have for Diaz, Canelo stated that conditioning is key to being able to...