NATE DIAZ DESTROYS ARROGANCE OF CONOR MCGREGOR WITH ONE SOCIAL POST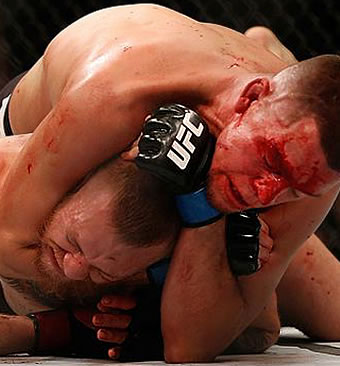 FLOYD MAYWEATHER has hinted at an eagerly-anticipated UFC showdown with Conor McGregor.
"Money", 40, posted a photoshopped image online showing himself beating a bloodied McGregor in the Octagon on Sunday, captioned: "Certified Killa v Certified B****."
Later in the day, McGregor replied with venom, posting an image of him actually elbowing Nate Diaz during one of their two UFC bouts.
"A real elbow in a real fight," he captioned the snap.
McGregor was then put in his place by Diaz who took to his own Instagram account to post a photo of him destroying McGregor.
The American fighter kept in theme with the previous captions and went with the not so subtle: "Real kill in real war..."
Diaz defeated McGregor in the pair's first fight at UFC 196 in March 2016, but the Irishman got his revenge with a majority decision win in the rematch five months later at UFC 202.
American boxer Mayweather beat Irish MMA star McGregor, 29, in the boxing ring in Las Vegas in August.