MODERN LATINA TO HOLD THEIR INAUGURAL EVENT

MODERN LATINA'S INAUGURAL EVENT TO BE HELD AT THE MACLA GALLERY, AUG. 24, 2013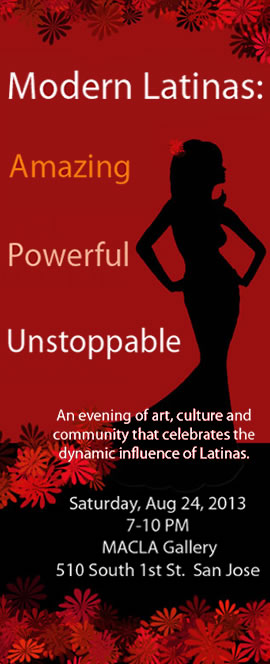 SAN JOSE, CA - Modern Latina™, the Bay Area's hottest online magazine for Latina women, is excited to announce their inaugural event, "Modern Latinas: Amazing. Powerful. Unstoppable."
Founded in 2005, Modern Latina features stories about Latino culture, career, health, beauty, inspirational Latinas and issues transforming the Latina community. The online magazine offers a hub of lifestyle content created and curated to inspire Latina women to live their best life.
"Latinas juggle so many different roles and responsibilities in their lives and Modern Latina is a resource to empower them to reach their goals and dreams," said founder Linda Castillo. "I founded Modern Latina with the vision to create and curate content that engages, inspires, connects, and creates an online community for Latinas."
This event will bring together the Modern Latina online community at MACLA gallery (Movimiento de Arte y Cultura Latino Americana) in downtown San Jose on Saturday, August 24, from 7:00 pm to 10:00 pm.
Over 150 influencers, professionals and community leaders will attend this celebration of the dynamic and growing influence of Latinas. This will be an exciting night to collaborate, innovate, educate, and connect with one another.
At the event, Modern Latina will proudly recognize the following recipients for their amazing contribution and inspiration to the Latina community: Gabriela Sepulveda - San Jose native who went through Mexican Heritage Corporation's music education program. She has been on "Tengo Talento, Mucho Talento", "Sabado Gigante" and most recently "La Voz Kids"; Maria Rizzo - Founder of Pachuca Cosmetics; Graciela Tiscareño-Sato - Author of Latinnovating: Green American Jobs and the Latinos Creating Them and Good Night Captain Mama, her recent bilingual children's book; Cheyann Montiel Reagan - Producer of the web series Off & RUNNING, a lighthearted comedy about the importance of never giving up on your dreams; Adela Castillo - Author of three poetry books and a Salinas community leader who started the annual celebration, The Noche Bohemia; Mari Arreola - Creative Director and owner of Spanglish Arte, a retail space and art gallery in Midtown Sacramento, CA
The evening will feature live music from the Latin Jazz Youth Ensemble of San Francisco followed by a musical performance from the talented Gabriela Zepulveda as well as a folklorico dance performance. Moreover, guests will enjoy wine from Vino Vargas, Villa Vallecito Vineyards, Coleccion Internacional del Vino and sample tequila from Mi Casa Tequila. Appetizers will be provided by Chachos Restuarant, and sweets from Casa De Chocolates and Cake Therapy Bakery. Guests will have the opportunity to meet the founder of Modern Latina, Linda Castillo and contributing writers as they share their passion to create an online magazine that inspires and empowers today's Latinas. The first 50 guests will receive beautiful gift bags from our sponsors.
A special thanks to the event sponsors Monterey Bay Aquarium, Portraits of Success, Casa Bhakti, Mariana Maya Photography, Silicon Valley Latino Leadership Summit, Sylvia Bonilla Zizumbo, and Ay Dios Mio Shop.
For more information contact Modern Latina founder, Linda Castillo at: linda(dot)castillo(at)modernlatina(dot)com, or by calling (408)506-7515. Sponsorship information is available at: http://bit.ly/14jkapm.
About Modern Latina - SF Bay Area's Online Magazine for Latinas
Modern Latina was founded in 2005. The vision of Modern Latina is to create an online community with content that will empower Latinas to realize their goals and dreams. For more information on Modern Latina, visit: www.ModernLatina.com. For other Modern Latina events in the SF Bay Area, visit: Modern Latina events page