DO POLITICIANS REALLY CARE ABOUT LISTENING TO THE MEX-AM COMMUNITY?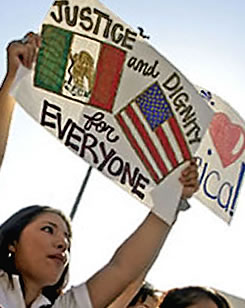 President Obama is currently considering a unilateral executive action on the immigration issue without any support from our now Republican controlled Congress. I wonder if he'd ever care to get the opinion about this from one of us, an American born Latino? It's not like we don't know the issue well. Maybe too well. At least in my extensive circle of Latin family and friends, most of us know at least one or two, and in many cases more than a few so-called "illegal" immigrants.
While it may appear to many that the Mexican American community is generally unified in a desire to provide amnesty for the 11 million or so undocumented immigrants currently residing in this country; this isn't the state of our reality. What is more generally agreed upon, however, is the absolute need for comprehensive immigration reform. There is a huge difference between an immediate amnesty or alleviation of the deportation threat for some which only benefits a select group - and an overall reform of our immigration laws which will benefit everyone of all cultures and ethnic affiliations, both in this country and beyond, for all the future generations to come.
What's often heard in the community is not a desire for exoneration of any wrongs from whatever the source with merely a quick fix for some. Rather, what's being sought is a correction in the system which makes someone who is seeking the American Dream illegal in the first place.
One of the most glaring errors in thinking that both Democrats and Republicans constantly make is an assumption that all illegal immigrants currently residing in the U.S. are wanting to become citizens. This isn't true. Many are merely wanting the right to work here legally. This is especially true concerning Mexican farm workers. Many would love the ability to simply travel back and forth easily between Mexico and the U.S. Why is this such a problem? It shouldn't be. There are many areas where this flip-flop deporter President and both parties might be able to agree on. Our community is hoping they'll try.