'ZOOT SUIT': HOW CHICANO THEATER BORN IN THE FIELDS CHANGED L.A. FOREVER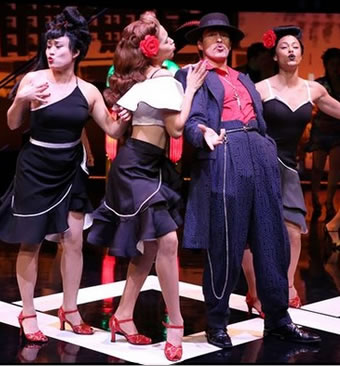 It was 1946. The cotton-picking season was over in the San Joaquin Valley, but the truck wouldn't go, the money was running out and this farmworker family was living on fish tacos. Father fished, mother made tortillas. When 6-year-old Luis fell into the river while fishing with his dad, Mama decided the boy would be safer in school.
So Luis climbed onto the big yellow bus with his fish taco lunch in a paper bag that his mother told him to bring back. One day, he couldn't find the bag. He panicked.
"My teacher asked what was wrong," recalled Luis Valdez, author and director of the "Zoot Suit" revival that's in previews now and officially opens Feb. 12 at the Mark Taper Forum. "I mentioned the bag. She said, 'Oh, I took it.'" The teacher walked Luis into a room where the bag was wet in a basin. She cut the paper into strips and placed them onto a mold — a monkey mask for the Christmas play.
Luis had been introduced to what he later called "one of the secrets of the universe": papier-mâché. He was one of two first-graders chosen to wear those masks. It was his big moment.
Three days before the play, however, he came home to find the family packing. "We're leaving," his mother said. "We're being evicted." Luis cried. His mother cried. And at dawn, the family...