Chicano Moratorium: How a Peaceful Protest Became a Day of Rage on August 29, 1970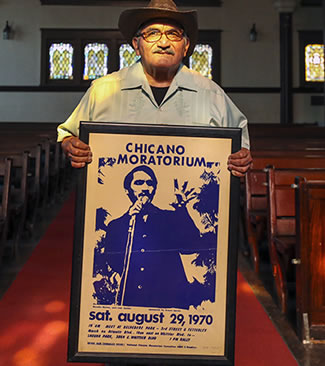 LOS ANGELES - Grass-roots activists knew that East Los Angeles' sprawling Mexican American barrio was a community on edge.
For years they had seen bitterness and frustration fester over police brutality, underfunded schools with some of the worst drop-out rates in the nation, biased media coverage, freeway construction that replaced 3,000 homes, and a disproportionate number of Mexican American soldiers returning from Vietnam in body bags.
But even the activists were not prepared for the fury of street warfare that erupted on the hot, smoggy Saturday afternoon of Aug. 29, 1970, when deputies used tear gas and clubs to disperse an anti-Vietnam War demonstration at Laguna Park after responding to a minor disturbance at a nearby liquor store.
The biggest, bloodiest disturbance in Los Angeles since Watts five years earlier lasted several hours. When it was over, Los Angeles Times' first Chicano columnist Ruben Salazar was dead, and two others were mortally wounded. About 200 people were under arrest, 75 law enforcement officers and an untold numbers of demonstrators were injured, 95 county vehicles were destroyed or damaged, 44 buildings were pillaged and eight major fires had been set.
For five decades, the Mexican American community, activists, and students of Latino history have marked the anniversary of that day. This week they will do it again. The 50th anniversary of the Chicano Moratorium is on August 29, 2020.
The commemorations of the movement known as the National Chicano Moratorium Against the Vietnam War have tended to focus on the death of Salazar, then a rare Latino voice in mainstream media. But there's so much more that should be remembered about this day in East L.A. when Chicanos demanded to be heard.
The National Chicano Moratorium march began at Belvedere Park near 3rd Street and Fetterly Avenue at about 9 a.m. amid a fiesta atmosphere of vivas! and placards reading "Aztlan: Love it or Leave it!" and "Stop Chicano Genocide." Once a pejorative term among Mexican Americans, "Chicano" was embraced by a new generation as an emblem of ethnic pride, cultural awareness and commitment to community. The march, which drew about 20,000 demonstrators from across the nation, followed a route down Atlantic Boulevard to Whittier Boulevard, then west past bustling restaurants, small markets, appliance stores, carnicerias and panaderias, which filled the air with the aroma of fresh Mexican bread. The march ended without incident, and participants headed for Laguna Park, where a rally was scheduled that afternoon. "Picture this in your mind's eye," recalled Frank Villalobos, an architect and president of Barrio Planners, which develops community projects throughout Los Angeles. "It's a sunny day, and thousands of young Latinos clad in the gear of the day — bell-bottom jeans, tie-dye shirts and headbands — are streaming into Laguna Park after a long, hot march and plopping down on the grass." Conjuntos blared out corridos. Before the advent of bottled water, workers from tienditas, or local stores, handed out cups of water to thirsty demonstrators as they trundled into the park with their families. Militant Brown Berets guided people toward a stage to wait for speakers, including United Farm Workers leader Cesar Chavez and Rodolfo "Corky" Gonzales, a former boxer whose fiery advocacy of Chicano power made him a hero to Mexican American youths in the 1960s.
The first signs of trouble occurred a block away when people crowded inside the Green Mill Liquor Store. At about 1:30 p.m. the owner, Morris Maroko, called police and complained that teenagers had stolen soft drinks. He would later tell the Times that the youths had threatened him. Los Angeles County Sheriff's deputies who rushed in with sirens blaring were pelted, Villalobos said, by a hail of "rocks and Bubble Up and Double Cola soda bottles — remember how big those things were? — thrown by people in an angry crowd."
David Sánchez, founder of the Brown Berets, recalled crossing paths with Salazar amid the commotion. "Ruben stood out in the crowd because he was wearing a silk shirt, navy blue trousers and shined shoes, so I said, 'Hey man, you're not dressed right for this kind of thing,'" Sánchez said. "Ruben laughed and said, 'I'm not worried.'" Salazar had a few hours left to live.
The tumult spread toward the park, where about 40 officers were lined up with riot batons across their chests. The crowd surged forward, was pushed back by deputies, then surged forward again. More deputies arrived to reinforce the skirmish line, which was collapsing in the confusion. Tear gas canisters exploded. Demonstrators ran for cover or stood and fought. "We had heard through the grapevine that gangs were coming out to fight that day," Sánchez said. "In other words, the issue of police brutality in East L.A. had finally come down to a showdown." Ismael "Smiley" Perera was among the young Chicanos who had come looking for trouble that day and found it. "We duked it out with the cops and it was a righteous feeling," he told The Times five years later. "It was like I got years of frustration and hate out of me that day." Violence swept with breathtaking speed along Whittier Boulevard. At 3 p.m., sheriff's officials issued an urgent call directing as many units as possible from throughout the county to Laguna Park. By 3:30 p.m., deputies established roadblocks to prevent any vehicles from entering the battle zone. A 3-square-mile area — bounded roughly by the Pomona Freeway on the north and Olympic Boulevard on the south — was the scene of people running for cover and riot-equipped police in gold-colored helmets and gas masks advancing in military formations, trampling spectators and clubbing those who did not move fast enough. For many...
[ Xcano Media note: see the virtual program: Chicano Rebellion Reconsidered ]