Decrying Racism, Fans Pushed For Years To Get NFL Pioneer Tom Flores In Hall of Fame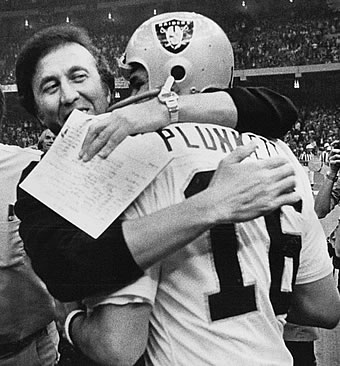 For years, Tom Flores — the first Latino pro football quarterback and head coach — doubted he would be voted into the Pro Football Hall of Fame. But his fans were sure he'd earned the honor and helped get him there.
Flores, 83, who is Mexican American, was elected to the Hall of Fame this weekend, a recognition that many fans had been saying he was due years ago.
"Congratulations to Sanger Alumni Tom Flores. It's about darn time," said a comment on a Twitter account dedicated to the Sanger Union High School Apaches in California. Flores attended the high school, where the football stadium is named after him.
Flores was the first Latino starting quarterback in pro football when he played for the Oakland Raiders in the American Football League in 1960. He went to the fourth Super Bowl in 1970 as backup quarterback for the Kansas City Chiefs.
He was an assistant coach with the Oakland Raiders when they won Super Bowl 11 after the 1976 season, and he was the head coach when the Raiders won Super Bowl 15 after the 1980 season and when the Los Angeles Raiders won Super Bowl 18 after the 1983 season. All as a coach and a player were firsts for a Latino.
He and Mike Ditka are the only men to have won Super Bowls as a player, an assistant coach and a head coach.