CHICANO STUDIES IS UNDER ATTACK IN TUCSON, AZ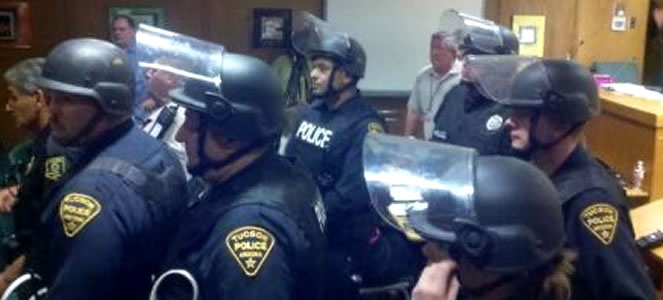 Tucson Unified School District's Ethnic Studies Vote Delayed After Raucous Demonstration
The board of Tucson's largest school district postponed a vote on changes to ethnic studies after police in riot gear cleared activists and media from a public meeting Tuesday night.
An estimated 300 protesters who were not allowed into the building responded by linking arms and cordoning off the entrances to the Tucson Unified School District headquarters while chanting, "Our education is under attack. Fight back!" Chants, folk songs, and catcalls filled the air, as students and activists surrounded the building on three sides. A police helicopter flew overhead, and officers blocked streets near TUSD headquarters with their cars, lights flashing.
During the heated four-hour meeting, some audience members became disruptive and were escorted out by Tucson police at the request of the Governing Board, said Sgt. Matt Ronstadt, a spokesman for the department.
Seven people refused to leave the meeting when asked, and were arrested for 3rd degree criminal trespassing, Ronstadt said. "It was absolute mayhem" when police began removing people from the meeting, said Sean Arce, Director of the Mexican American Studies Program. "It was very tense" throughout the meeting. "Then police came to take people away." About 20 members of a police "riot squad" remained in the meeting room, he said.
Community organizer Miguel Ortega called the school board's response to activists and protesters an "absolutely unprecedented lack of restraint," as he called for the resignation of district Superintendent John Pedicone.
FIGHT BACK! - YOUTH GROUP U.N.I.D.O.S. TAKE OVER TUSD BOARD MEETING (04-26-11)