NOTORIOUS ZETA CARTEL BOSS MIGUEL ANGEL TREVINO MORALES CAPTURED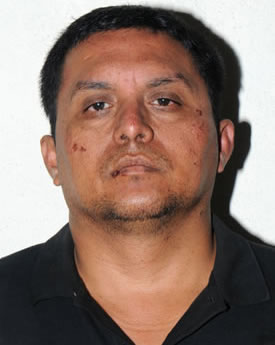 MEXICO CITY - In a country that has recently seen tens of thousands of murders resulting from the nefarious illegal drug trade, the capture of one criminal gang leader in the so-called Mexican Drug War would hardly seem to make much of a difference. Yet, if one considers the evil nature of Miguel Angel Trevino Morales, a.k.a. 'Z-40' or 'El Cuarenta', his apprehension on Monday is especially pleasing.
As the leader of Los Zetas, Trevino Morales was personally responsible for some of the worst most despicable atrocities known in Mexico's drug war history. An example of his sickened mind was seen in 2010, when his Zeta Cartel brutally slaughtered 72 innocent migrant workers heading toward the U.S. border in the northern town of San Fernando. In 2011, they torched the Casino Royale in Monterrey killing 52 persons who were burned alive (officially), but with 62 dead bodies found. Again, in the town of San Fernando in what's known as the 2nd San Fernando massacre, federal officials announced the discovery of 193 dead bodies buried in a mass grave, most of them immigrants who were kidnapped off buses and allegedly killed by Los Zetas after some of them had refused to work as drug mules. As recently as this last May, Los Zetas were apparently also responsible for dumping the headless and limbless torsos of 49 additional victims near the city of Monterrey. Sadly, this is unfortunately only an accounting of what's publically known. Who can truly know the full level of hatred he bestowed?
So who are the heroes in the capture of this evil monster? It was the Mexican Navy Special Forces unit officially known as Fuerzas Especiales (FES). This top notch special operations unit of the Mexican Navy was established in late 2001, and ever since has been one of the most significant and successful players in the effort to keep Mexico from falling further into the chaos and destruction of what's currently being experienced as a result of the activities of its drug cartels. Specialties of the FES are unconventional warfare, assault, counter-terrorism, and special reconnaissance operations. They seized Trevino Morales in Nuevo Laredo, a border city across from Laredo, Texas, in the state of Tamaulipas, a longtime Zeta stronghold, said government security spokesman Eduardo Sanchez. This is somewhat of an irony that the Zeta's top thug was captured in Nuevo Laredo. For, this is the same city where the head of a woman who had angered the Zetas for blogging about local crime and violence on a Nuevo Laredo website was found decapitated, with her head placed atop a computer keyboard, and a message warning other bloggers from speaking out. So now it's the Mexican people that are shouting back. Mexico won't be lost to criminals! We'll fight back!
ADDITIONAL NEWS REPORTS ON THIS IMPORTANT STORY FROM AROUND THE WEB:
---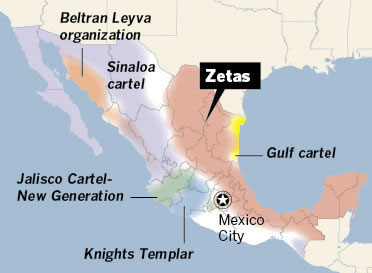 The top leader of Mexico's most feared and violent drug-trafficking paramilitary cartel, the Zetas, was captured Monday, Mexican authorities announced, the first significant blow to organized crime in the young government of President Enrique Peña Nieto.
The removal of Treviño Morales from his perch at the head of the most feared drug and smuggling gang in Mexico is an important success for the government and law enforcement. But it will also probably ignite a bloody wave of violence as his cohorts fight to succeed him... It also strengthens the hand of the most powerful drug lord in Mexico, Joaquin "Chapo" Guzman, whose Sinaloa cartel competes with the Zetas and may now have its eyes on Nuevo Laredo, Treviño Morales' hometown and one of the most lucrative crossing points for the shipment of tons of cocaine and marijuana into the United States.
An indictment in U.S. federal court from May of last year described Treviño Morales as a Zetas leader who laundered millions of dollars in drug proceeds through U.S. businesses, including a thoroughbred horse-racing operation allegedly run by a brother.. The Zetas were formed nearly a decade ago by leaders of the Gulf... -- Read the full article: (click here)
---
Mexico's most brutal drug cartel leader built a business empire stretching from the Southwest United States to Central America, but Miguel Angel Trevino Morales' final days of freedom were spent lying low in the hinterlands of Tamaulipas state, traveling only at night over back roads as Mexican marines closed in on his trail.. The last of the Zetas drug cartel's old-guard leaders saw fate swoop in on him in the pre-dawn hours Monday when a military Black Hawk helicopter flew low over his pickup truck... -- Read the full article: (click here)
---
The Mexican government said on Monday it captured the brutal leader of the Zetas drug cartel in an early-morning raid, marking the biggest victory for President Enrique Pena Nieto in his fight against gang violence.
Marines arrested Miguel Angel Trevino, aka Z-40, after intercepting his pick-up truck with a helicopter a few miles (km) from his home town of Nuevo Laredo on the U.S. border, government spokesman Eduardo Sanchez said in Mexico City... "Not a single shot was fired," Sanchez (told) reporters... The Zetas have been blamed for -- Read the full article: (click here)