UNAUTHORIZED IMMIGRANT TOTALS RISE IN SEVEN STATES - FALL IN FOURTEEN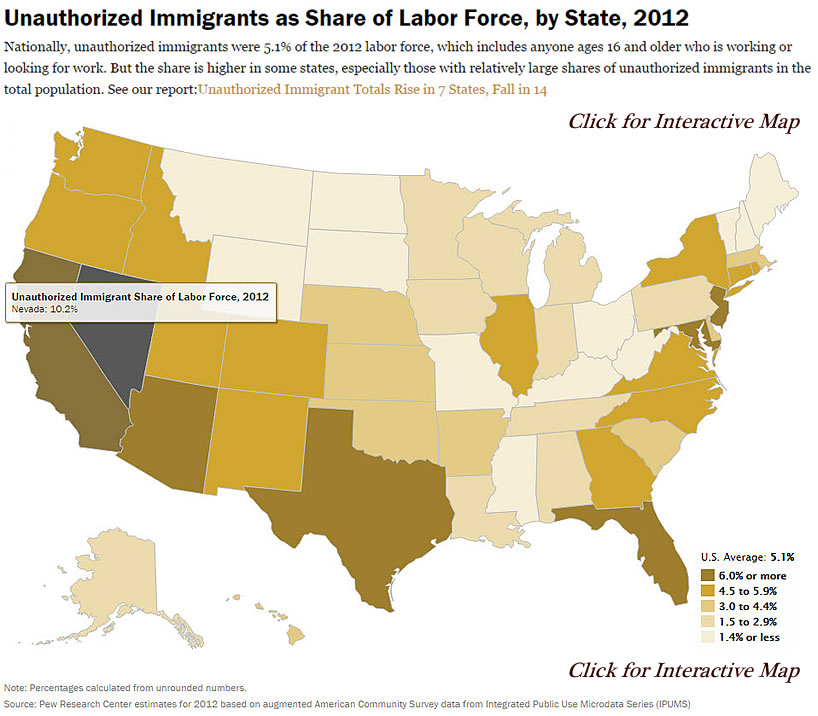 DECLINE IN THOSE FROM MEXICO FUELS MOST STATE DECREASES
The U.S. unauthorized immigrant population has leveled off nationally after the Great Recession, but state trends have been more volatile. From 2009 to 2012, according to new Pew Research Center estimates, the population of unauthorized immigrants rose in seven states and fell in fourteen. Five East Coast states were among those where the number of unauthorized immigrants grew from 2009 to 2012—Florida, Maryland, New Jersey, Pennsylvania and Virginia. Numbers also rose in Idaho and Nebraska, according to the center's estimates. Six Western states are among those with declines in unauthorized immigrant populations from 2009 to 2012—Arizona, California, Colorado, Nevada, New Mexico and Oregon. Other states with decreases over that period are in the South (Alabama, Georgia and Kentucky), the Midwest (Illinois, Indiana and Kansas) and the Northeast (Massachusetts and New York).1
Nationally, the population of 11.2 million unauthorized immigrants in 2012 was unchanged from 2009, the year the Great Recession ended (Passel, Cohn, Krogstad and Gonzalez-Barrera). The number had peaked in 2007 at 12.2 million and declined for the next two years during the recession.
Why did unauthorized immigrant populations decline in 14 states from 2009 to 2012? According to a Pew Research analysis, the losses in 13 of them were due to drops in the number of unauthorized immigrants from Mexico. The exception was Massachusetts, where the overall decrease was due to a decline in the number of unauthorized immigrants from other countries.
In six of the seven states where populations of unauthorized immigrants grew from 2009 to 2012, it was because the number of non-Mexicans increased; the number of Mexicans declined or did not change. The exception was Nebraska, which had a small but statistically significant increase in Mexican unauthorized immigrants in those years.
There is wide variety in state populations of unauthorized immigrants, according to the Pew Research estimates. More than half the 2012 unauthorized immigrant population (60%) lived in the six states with the largest numbers of such immigrants—California, Florida, Illinois, New Jersey, New York and Texas. At the opposite end, six states (Maine, Montana, North Dakota, South Dakota, Vermont and West Virginia), had fewer than 5,000 unauthorized immigrants each in 2012.