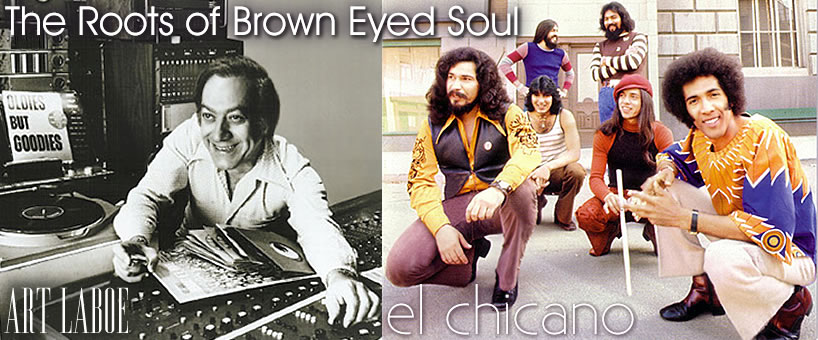 CHICANO SOUL CONCERT SERIES: Iconic Radio DJ Art Laboe and El Chicano Band Revisit Their L.A. Musical Roots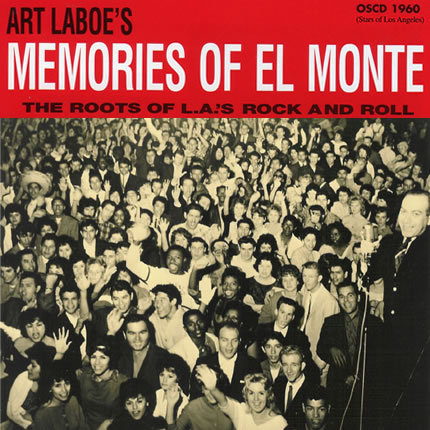 Late in the night during the Art Laboe Connection Show on HOT 92.3 Los Angeles, a listener dedicates "Tell Her She's Lovely" by El Chicano to his lady. The legendary radio host says in his unmistakable velvety voice that the band is one of many they'll hear at his upcoming concert in Anaheim. After cueing the track, its Latin funk, thumping bass and deft guitar licks beam over the airwaves. The sounds of Chicano Soul summon whimsical feelings of LA barrio love, whether a heartfelt memory from Whittier Boulevard in decades past or a young couple laying out on the grass near Echo Park Lake today.
The timeless music travels from terrestrial frequencies onto the concert stage when Laboe presents the Chicano Soul Legends concert Saturday at the Theatre at Honda Center. His legion of listeners will fill arena seats for a lineup stacked with the genre's iconic acts from the early '60s to the '70s, including Malo, Tierra, Thee Midniters, the Heartbreakers and El Chicano.
For Laboe, now 89 years old, putting on shows is nothing new. "I started doing concerts in 1956, and then we started having a lot of success in East LA and El Monte at the Legion Stadium," he says. The famed "Memories of El Monte" were fueled by getting around a Los Angeles municipal ordinance forbidding youth under 18 from going to public dances and transformed it into a local public lore with performances by the likes of Ritchie Valens and Rosie & The Originals.
It's been awhile since Laboe has been to OC, but back then, a brand-new theme park in Anaheim picked up on his prowess. A Disneyland official tapped the "Oldies But Goodies" guru to work his magic in the Magic Kingdom. "They had a very small, little place to play," Laboe recounts. He checked out the venue,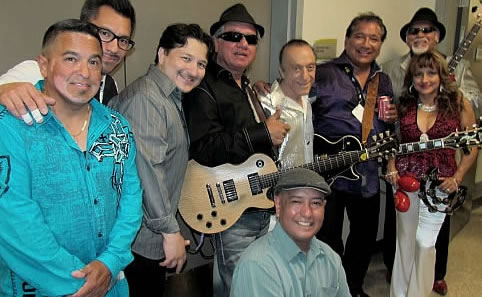 guessed its capacity at about 300 and told the upstart employee the show would draw thousands sure to ruin the flower garden nearby. "We did the show, and sure enough, about 3,000 people came [and] wiped out the flowers, but he got promoted!"
Back on the dial, Laboe helped to plant the seeds of Chicano Soul. "We started playing some of their music when nobody else was," he says of the early Mexican American artists. Valens and groups such as the Premiers were in heavy rotation. "It caught on."
As the '60s progressed, a number of musicians east of the Los Angeles River continued experimenting with jazz, soul and rock. Bassist Freddie Sanchez founded the VIPs in 1965. "We were a nightclub group that used to cover tunes," Sanchez says. "We played a lot of dances for teenagers."
The group honed in on a soulful sound accentuated by a horn section. "The first person I brought into the VIPs' lineup was a 15-year-old named Bobby Espinosa," Sanchez adds. "That was the seedling of El Chicano." The youngster brought his mastery of the Hammond organ, an essential element to their brown-eyed-soul sound.
El Chicano and other groups on the Chicano Soul Legends bill began hitting it big as the years went on. Sanchez and crew got their big break--and a new name--from being one-take wonders. The VIPs got invited to a studio by way of Bobby's brother Henry. "We went in to record and ended up only doing one song, 'Viva Tirado,' by accident because after that, the recording equipment broke down," Sanchez says. "We did one take, and that's it, but that song became a hit from that point on."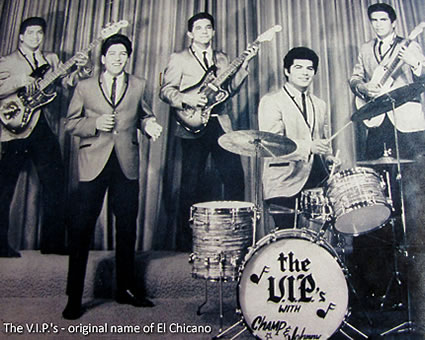 The group were driving around San Diego when they heard their smooth rendition of the Gerald Wilson Orchestra instrumental on the air for the first time. "Hey, that's us!" they exclaimed. The DJ announced it as a brand-new song from a brand-new group called "El Chicano." The musicians turned to each other in bewilderment. "Who's El Chicano?" they wondered. Producer Eddie Davis had gotten his hands on the track, released it on his own in 1970 and gave the VIPs a name change without telling them.
Another DJ began spinning the tune. "When I first heard it, I didn't quite understand it. It's a real quiet song," recalls Laboe. "I remember playing it as a mainstream record. It has a certain feel to it that I don't think any other song does."
Over time, El Chicano learned to grow into their new name. "We stuck to the meaning behind it," Sanchez says. "We were always trying to create positivity and pride through our music. Our first album didn't have any sides toward the Chicano Movement, but the second album, Revolución, did."
El Chicano toured the world behind the strength of "Viva Tirado" and other hits. The group of guys from East LA shared stages throughout the '70s with the Jacksons, Stevie Wonder and Aretha Franklin, among others. "People were yelling, 'Chicano!' in Germany, Japan and beyond," Sanchez says. But then disco took over, and Chicano Soul cooled off. The group never attempted to change their sound to the fad of the time. "Had we gone trendy, I don't think El Chicano would be around today," Sanchez adds.
That's true of the rest of Chicano Soul's best. Thee Midniters, Malo, Tierra and others remain active and are coming together for this weekend's show. "Art Laboe has become the iconic figure, which is really great. It's an absolute compliment that he's still there and we're still there," Sanchez says. "Believe me, when you get to a certain age, you're just thankful that you're still there."
The 68-year-old bassist makes that comment having suffered two major losses in 2010, when both Bobby Espinosa and percussionist Rudy Regalado died. "That's when I really had to rethink things, but as fate would have it, I ended up getting back with guitarist Mickey Lespron and singer Jerry Salas," Sanchez says. "They still wanted to go out there and perform."
Not only do they do just that, but with producer Gerry Gallagher, El Chicano are readying Signature, a new studio album, whose featured guests include Vikki Carr, who recorded vocals for a reinterpretation of their hit "Sabor a Mi."
Longevity is the key for bands such as El Chicano, aided by events such as the Chicano Soul Legends concert and hosts such as Laboe. "There's more than one generation of Chicanos now. You've got the OGs. They go back into the '50s, and you've got the younger people that were born in the '90s," Laboe says. "Sometimes whole families come."
And if there ever were an honorary Chicano abuelo, it's Laboe. His special ties to the community date back to El Monte Legion Stadium concerts and the raza that attended them. "I recognized the people who were coming to the shows and would get down in the audience, meet and talk with them," Laboe says. "I ingratiated myself to them and held out my hand. They accepted that, and I became a symbol of some kind of crossover between Chicanos, the music and myself. I think that's extended to today."
Laboe will be at the Honda Center introducing bands and taking photos with fans, continuing his living legacy in radio that began 71 years ago and has earned him a star on the Hollywood Walk of Fame as well as a place in the Radio Hall of Fame.
"I'm real happy to come to this event in Orange County," Laboe says. "I haven't been there in a real long time, and it's going to be a great show!" Chicano Soul Legends, presented by Art Laboe and HOT 92.3, features El Chicano, Thee Midniters, Malo, Tierra, the Heartbreakers, Joe Bravo and more at the Theatre at Honda Center, 2695 E. Katella, Anaheim, CA ; Call (714) 704-2400; Sat Dec. 6 @ 6:30 pm, All ages.