CINCO DE MAYO MYTHS ARE DEBUNKED IN A UCLA PROFESSOR'S NEW BOOK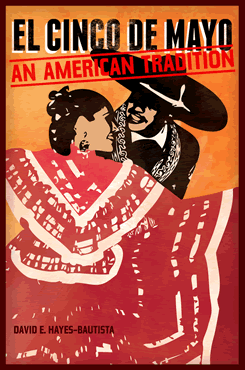 When Dr. David E. Hayes-Bautista says the phrase "Drinko de Mayo," he is far from bitter. He doesn't rant about how Cinco de Mayo has been subjected to brutal commercialization and stripped of its authenticity. It is, after all, difficult to really critique the Mexican beer companies for divesting the holiday of its "true meaning" when most Chicanos themselves, let alone Californians (or the rest of the U.S.), aren't sure why they celebrate it in the first place.
Before he wrote his new book El Cinco de Mayo: An American Tradition to, in his words, "straighten out the history," Hayes-Bautista, a professor of medicine at UCLA and director of the Center for the Study of Latino Health and Culture, went most of his life not fully understanding the holiday.
A native of Los Angeles, he knew that his relatives in Mexico didn't celebrate it at all. When he was an undergrad at UC Berkeley in the late 1960s, he and a few fellow Chicano students celebrated Cinco de Mayo by hosting a salsa concert at the Greek Theater. In 1972, when he was a graduate student studying medical sociology at UC San Francisco, a reporter asked him to write an article about why Chicanos celebrated the holiday, but his research led to a kind of dead end. He was baffled.
How could a holiday -- that every year unleashes such a frenzy of amphetaminic one-day-only used-car extravaganzas, Mexican pride festivals, faux fiestas, half-hearted office parties, flash-mob mariachis, extreme pinata violence and generalized debauchery and carousing -- be so evasive, at least in meaning, to the very communities who arguably value it most?
Hayes-Bautista begins to explain his book as we walk around a new exhibition at L.A. Plaza de Cultura y Artes called "Cinco de Mayo! Latinos in California Respond to the Civil War," which takes his complex book and makes it accessible for a wider audience. Photographs, newspaper clippings and maps, culled from the Library of Congress and carefully arranged on bright red and blue gallery walls, furnish the visual evidence of Hayes-Bautista's research.
He is a tall man, with a neat, white beard, a red tie and a black suit that hangs slightly loose on his frame. When he speaks, he tends to emphatically sweep his arms and wave his hands. He glances around the room through his large black spectacles, trying to get his bearings. 'I'm seeing this for the first time up here..." he says. Once he locates the map he wants to talk about, he begins.
Cinco de Mayo ostensibly commemorates the victory of the Mexican army over French forces at the Mexican town of Puebla on May 5, 1862. A 1998 study showed that 20 U.S. states celebrate Cinco de Mayo, and almost 80 percent of those celebrations are in the heavily Mexican-American states of California, Texas, New Mexico, Arizona and Nevada. But what strikes many as odd is that Cinco de Mayo is all but ignored in most of Mexico.
Two years ago, Hayes-Bautista realized the 150th anniversary of the Puebla battle was approaching in 2012 and decided he needed to do something to punctuate it. As an academic, his first inclination was to write a book. His research led him to...