CANELO ALVAREZ DELIVERS JAMES KIRKLAND A KNOCKOUT BLOW IN ROUND 3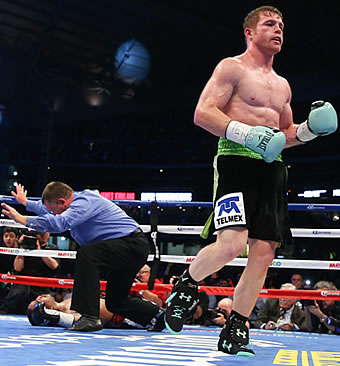 One week after the "Fight of the Century" came what, for all its brevity, has to be a contender for Fight of the Year: an intense three rounds of action that saw punches thrown with bad intentions from beginning to end - an end that came with a monster overhand right by Saul "Canelo" Alvarez, which exploded onto the jaw of James Kirkland and knocked him out cold in the third round.
There is nothing enigmatic about Kirkland's fighting style, no surprising variations, no guessing what he may or may not do. He is a straight-ahead warrior; a kill-or-be-killed brawler who knows only how to fight with extreme violence, and who will beat on his opponent until he knocks him out or is knocked out in the process. And so it was on Saturday in Houston's Minute Maid Park where, after perhaps 10 seconds of sizing up his opponent, Kirkland launched into him.
Alvarez, fully anticipating the assault, retreated to the ropes and covered up behind a high guard as Kirkland swarmed, unloading with a constant fusillade of power punches. Most of them bounced off Canelo's arms, but enough found their way through his tight defense to cause moments of concern to the legions of Alvarez fans that constituted almost the entirety of the 31,588 in attendance at the ballpark. But if Kirkland constantly runs white hot, Canelo is ice cold, and even under the blizzard of blows, he retained his poise and responded with short, sharp counters of his own...