RUSSIA'S PROTON-M ROCKET FAILS WITH MEXICAN COMMUNICATION SATELLITE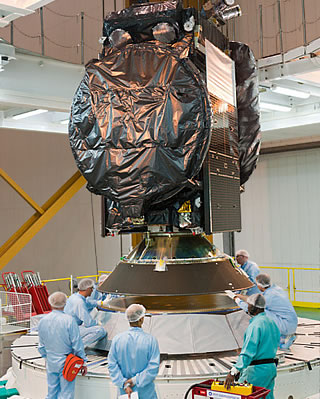 MOSCOW — A Russian-made rocket ferrying a Mexican telecommunications satellite crashed in eastern Siberia minutes after its launching on Saturday, Russian news agencies reported, citing officials at the country's space agency.
The Proton-M rocket was launched from the Baikonur Cosmodrome in Kazakhstan at 11:47 a.m. and crashed in the Chita region of Siberia about eight minutes later, the reports said.
The failure appeared to have occurred with the rocket's third stage, which was intended to bring the satellite to an altitude of about 110 miles. At that point, it was supposed to be propelled by engines into geostationary orbit.
Instead, there was a catastrophic failure. The stream of telemetry data sent back by the rocket failed about a minute before the satellite was to enter orbit, the news agencies reported.
The Interfax agency quoted an unidentified official at Roscosmos, the Russian space agency, as saying there had been an "emergency engine shutdown of the third stage."
The Proton rocket is the mainstay transporter for International Launch Services, a joint Russian-American satellite carrier business. The satellite, called Centenario, was being sent into orbit on behalf of Mexico's Ministry of Communications and Transportation and had been manufactured by Boeing Satellite Systems.