MANY CHEAP SHOT CRITICS DIDN'T SEE WHAT TONY ROMO HAS TILL HE WAS GONE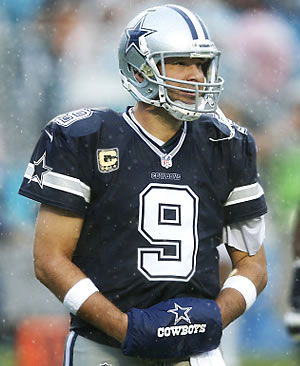 By beating the Miami Dolphins Sunday, the Dallas Cowboys preserved their perfect record this season with quarterback Tony Romo under center. That's the good news for Cowboys fans; the bad news is Romo has only played three games. Matt Cassel and Brandon Weeden were both winless when filling in at QB while Romo was out with a broken clavicle. At 3-7, the Cowboys have little chance of making the playoffs unless they go on a serious tear against what isn't an easy schedule down the stretch.
If nothing else, the Cowboys' season has reinforced just how completely essential Romo is. His absence has made it clear that he belongs in any discussion of the league's top signal-callers.
Romo ranks among the top QBs in the NFL over his career, whether you use data from the box score or more advanced, play-by-play metrics But Romo also has a reputation, starting early in his career and growing with each passing year since the Cowboys' last Super Bowl win, for not being "a winner."
While it's possible Romo is a stat-stuffer whose great individual numbers overstate his true worth, there are other ways to detect a player's value. For instance, here at FiveThirtyEight we're oddly thankful when players miss time because it gives us a chance to quantify their influence on the performance of their teams. And few quarterbacks in NFL history have been associated with a better with-or-without-you (WOWY) ledger than Romo. To help measure this WOWY effect, I used Elo ratings, FiveThirtyEight's pet power rating system. Elo...