THE LASTINGS IMPACT OF L.A.'S ZOOT SUIT RIOTS 75 YEARS AGO ( SUMMER 1943 )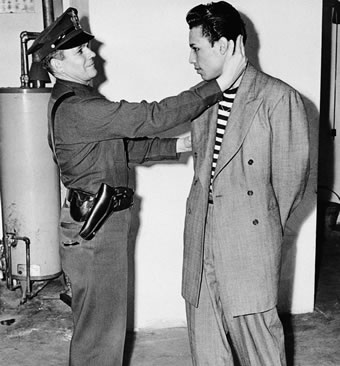 ALBUQUERQUE - Ain't nothing like seeing a sharp-dressed Chicano in his drapes. You might think of zoot suits as a nod to a bygone era, but this staple of Chicano fashion is an important symbol of cultural resistance that emerged from a period of anti-Mexican racism in Los Angeles during World War II.
This month marks the 75th anniversary of the Zoot Suit Riots, and it is important to remember their lasting impact.
The Zoot Suit Riots were a series of violent clashes during which mobs of U.S. servicemen, off-duty police officers and civilians brawled with young Latinos and other minorities in Los Angeles. The June 1943 riots took their name from the baggy suits worn by many Latino youths during that era, but the violence was more about racial tension than fashion.
Mexican-American youth donned the exaggerated suits, first made popular by style-conscious Black youth in jazz clubs and dance halls, as part of pachuco style. The signature characteristics of the suits were drapes, or the baggy trousers with carefully pegged cuffs, and tacuches, or the long, oversized jackets with padded shoulders and wide lapels. The suit was often accessorized with long watch chains (cadenas), Stacy Adams shoes (calcos), and fedora hats with feathers in the brim. Along with the suits, pachucos had their own language known as cálo — a combination of English, Spanish and indigenous languages — that they used...