NEWS OF THE WEEK: 9TH ANNIVERSARY OF LA GRAN MARCHA "LARGEST MARCH IN U.S. HISTORY"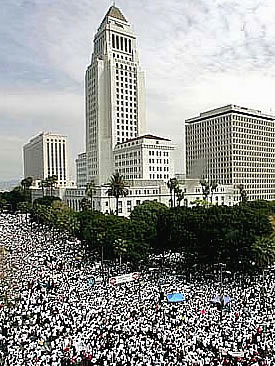 Yesterday was the ninth anniversary of the largest mass protest demonstration to 'ever' occur in the history of the United States. It happened in the busy streets of downtown Los Angeles on a partially overcast day dominated with energy in the air on March 25th, 2006.
With an estimated participation of over 1.25 million demonstrators, what is commonly known as "La Gran Marcha" (translated to English as "The Great March") in one day took the U.S. Latino American community from quite often being referred to as the "Sleeping Giant", to a position of internal self-awareness and outward public recognition that up until this moment in U.S. history had not been realized before.
As of this writing, it has been exactly nine years this week since the passing of this historic event. Next year will be the tenth year anniversary of La Gran Marcha. Yet, surprisingly, most people have still never heard of it. The first obvious question to this wonder is: Why? Why not? Why is this so-called "largest march" or "largest mass public demonstration" of all U.S. history so utterly unknown?
The significance of this question can not be overemphasized. Anyone can speculate. And, in the course of questioning this issue for the past nine years, many have. But, the salient point always remains. The fact of the matter is that this largest assembly of people ever seen in the history of the United States was nearly virtually ignored in terms of its massive size and importance by all of the major U.S. mainstream English speaking news media. It is the reason that if one does a search on the Internet for this event, you'll not find very...