CAIN VELASQUEZ RUNS OUT OF STEAM AGAINST FABRICIO VERDUM AT UFC 188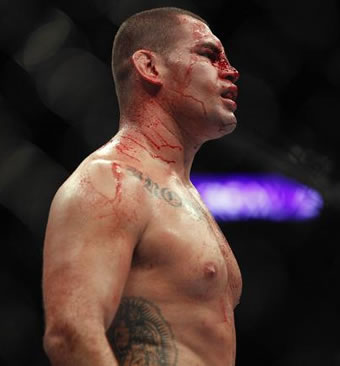 They say absence makes the heart grow fonder. In mixed martial arts, however, absence makes the heart (and brain) forget.
UFC heavyweight champion Cain Velasquez has been out of action for a long time. The greatest heavyweight fighter in the sport was felled not by a foe, but by injuries suffered in training. We have seen so little of Velasquez during his prime, and he has been gone for so long, that maybe we forget what a ferocious animal he actually can be. We forget about his cardio and about how he is relentlessly in his opponent's face until something deep inside their spirit breaks and then collapses and then withdraws.
We forget that he's probably the greatest heavyweight of this generation or any other. And we forget about the beatings he has administered, the moments where he has laid bare the souls of his opponents and then crushed them underneath his feet.
We forget about all of those things. But Velasquez forgot about altitude.
Training at sea level in San Jose, California, Velasquez was woefully unprepared for the 7,382-foot elevation of Mexico City. Though he has been casually nicknamed "Cardio Cain" for the relentless pace he is able to keep, Velasquez looked like a fish out of water on this night. After one round, he was breathing heavy. Halfway through the second round, his hands began dropping and...