CLINTON: DONALD TRUMP'S HATEFUL RHETORIC ON MEXICANS 'NOT ACCEPTABLE'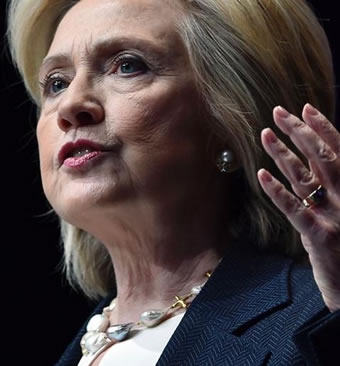 Hillary Clinton took a swipe at Donald Trump on Thursday, saying — without mentioning the New York real estate tycoon by name — that his presidential launch speech was offensive to Mexicans and "emblematic" of the kind of rhetoric that cannot be tolerated in the wake of the tragic South Carolina shootings.
"We have to have a candid national conversation about race and about discrimination, prejudice, hatred," Clinton said in an interview with KNPB's Jon Ralston. "But unfortunately the public discourse is sometimes hotter and more negative than it should be, which can, in my opinion, trigger people who are less than stable."
"For example," the former secretary of state added, "a recent entry into the Republican presidential campaign said some very inflammatory things about Mexicans. Everybody should stand up and say that's not acceptable. You don't talk like that on talk radio. You don't talk like that on the kind of political campaigns."
"You can name him," Ralston responded, but Clinton refused to use Trump's name.
"I think he is emblematic," she said. "I want people to understand it's not about him, it's about everybody."