ROSELYN SANCHEZ DROPS MISS USA SPOT AFTER TRUMP'S MEXICAN HATE SPEECH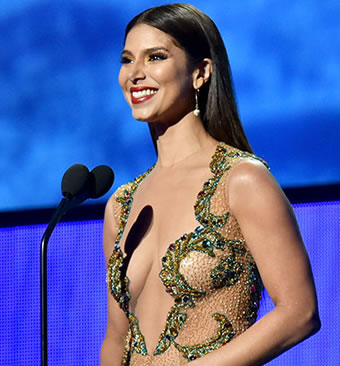 Roselyn Sanchez, the Puerto Rican singer/actress and star of Lifetime's Devious Maids, has bowed out as co-host of the Miss USA pageant, citing Donald Trump's comments in his June 16 presidential-bid speech.
"I was very excited and proud to have been invited to participate in Miss USA, but as a Latina, that is now inconceivable," Sanchez said in a statement. "Although I am not Mexican, I am Puerto Rican and a proud Latina, and his comments were an insult to our culture. I won't sponsor anything produced by Donald Trump."
Sanchez was slated to co-host the Spanish-language simulcast of Miss USA alongside actor Cristian De La Fuente, who also pulled out.
Likewise, on Thursday (June 25), Univision announced it was ending the company's business relationship with the Miss Universe Organization, based on his remarks.
Sanchez is the latest Latin artist to raise her voice in protest following Trump's speech, in which he referred to Mexican and Latin American immigrants as criminals and rapists.
Following rock band's Maná very public denouncement of the speech during a Los Angeles show, Colombian star J Balvin canceled his Miss USA performance. It would have been...