Barrio Boogie Is Back! Proud Chicanos Re-enact The Bygone 'Pachuco' Days Of L.A.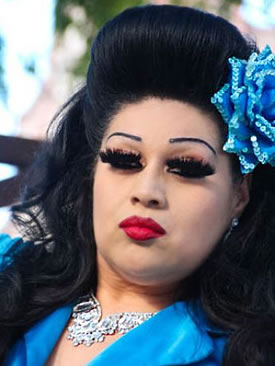 LOS ANGELES – The dance floor at "Barrio Boogie Sunday" is filled with sharply dressed women in flouncy skirts and brightly colored fitted blouses, being twirled in perfect swing rhythm by their dapper partners in boxy zoot suits and vintage greaser wear.
They are pachucos and pachucas, celebrating the Chicano mix of swing, rockabilly and Latin music that became a subculture in the L.A. of the 1940s. It's a joyful gathering with a neighborhood feel.
Intermixed on the dance floor are also men and women in every day street clothes watching the dance instructor on stage, attempting a few steps, all the while smiling from ear to ear.
With events like Pachuco Boogie Show, Barrio Boogie and Pachuco Boogie Sundays popping up in L.A. throughout the year, the pachuco feel is one of an ongoing fiesta — the streets fill up with classic barrio culture, antique cars, free swing dance lessons, pinup contests and of course the high energy of the unique pachuco music.
The music is much like all else associated with pachuco: a blend of cultures creating a jive beat that is solely its own animal.
Now a movement of Chicano pride and positivity, pachuco in the 1940s and early 1950s was considered a gang crime subculture looked down upon — it was connected with the Zoot Suit riots that emerged from the rising tension between Mexican-American and military men during World War II. At its peak, the confrontation prompted a citywide ban of wearing the high-waisted pants and long padded coats...