CHICANA COLLEGE STUDENT IS SOLE AMERICAN KILLED IN PARIS TERROR ATTACKS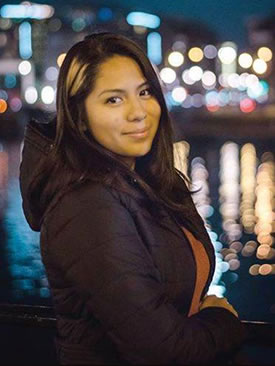 A Cal State Long Beach student was among the more than 120 people killed during the terrorist attacks in Paris Friday night.
Nohemi Gonzalez was a design student from the El Monte, Calif. area, who was a part of an international exchange program at the Strate School of Design, according to the university, reports the Los Angeles Times.
The 23-year-old was among 18 students from the university participating in the program.
"Yesterday I lost the most important person in my life," Gonzalez's boyfriend, Tim Mraz, wrote on Instagram on his private account, according to the L.A. Times.
"She was my best friend and she will always be my angel forever. I am lost for words," Mraz added. "My prayers are with her family. Such a bright soul and the sweetest girl with a smile on her face."
Gonzalez's friends and the community at-large have shown an outpouring of love for her loss.
"It crushes my soul that you're gone but you were off being a free spirit like you've always been," her friend Madeline Chavez wrote on Facebook. "I love you so much and cherish all the memories we've shared together."
"(Nohemi was) a kind, thoughtful, generous and talented student, dear to all who knew her," Michael LaForte, a lecturer in Cal State's Long Beach's department of design, wrote. "We grieve for...