Cache of Weapons and 12 Pipe Bombs Found in Residence of San Bernardino Suspects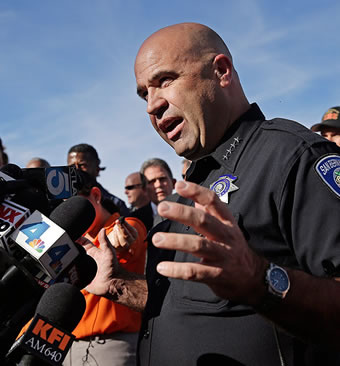 The number of injured victims in Thursday's mass shooting in San Bernardino that killed 14 has increased from 17 to 21, and the suspects had a large cache of weapons and ammunition in their residence, authorities announced at a press conference.
At a house in Redlands leased to the suspects – Syed Rizwan Farook, 28, and Tashfeen Malik, 27 – authorities found stores of ammunition and 12 pipe bombs, San Bernardino Police Chief Jared Burguan said. Burguan added that there tools to construct improvised explosive devices.
"Clearly they were equipped and they could've done another attack," Burguan said. "We intercepted them before that happened, obviously."
Burguan said that he is confident that Farook and Malik were the only two people who fired guns. He added that San Bernardino police "don't have any credible information tho indicate there's an immediate threat to anybody in the area."
Burguan said all four guns used in the attack were legally purchased: Two rifles were purchased by Farook and another two by someone else. Farook had no criminal record that cops are aware of, Burguan said. However, Burguan was not sure if the guns were legal under California law.