PRAISE FOR MISS COLOMBIA'S GRACEFUL REACTION TO MISS UNIVERSE MISTAKE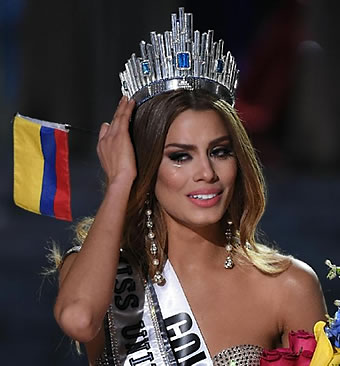 LAS VEGAS - The Colombian contestant was already wearing this year's Miss Universe crown when host Steve Harvey returned to announce on live television that he had mistakenly read from a cue card, and that the contestant from the Philippines was actually this year's winner.
In the following moments, the crown was removed and placed on the head of a mystified Pia Alonzo Wurtzbach of the Philippines, other contestants rushed to console Ariadna Gutierrez Arevalo of Colombia and a sheepish Harvey felt compelled to apologize on Twitter and to reporters assembled backstage.
"I feel horrible for this young woman," he said.
Harvey said it was his mistake and that he would take responsibility for not correctly reading the card, which said that Wurtzbach was this year's winner and Colombia was actually the first runner-up.
He held up the card for Fox network cameras to see up close. Talking with reporters afterward, Harvey and an executive for pageant owner WME-IMG called it human error.
"Nobody feels worse about this than me," he said.
Wurtzbach appeared stunned as she walked to the front of the stage alongside the crown-wearing Gutierrez before last...