CLINTON DISCOVERS LATINOS AREN'T SO QUICK TO EMBRACE HER LIKE AN ABUELA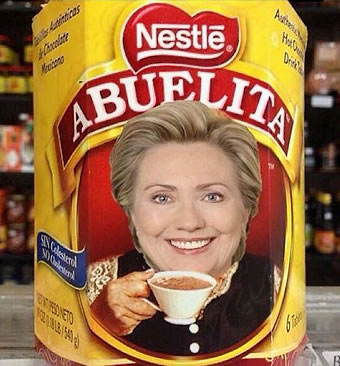 Everyone agrees that Hillary Clinton is a grandmother. But some aren't so sure she's an abuela.
This week, Hillary Clinton's team put up a post up on her website called "7 things Hillary Clinton has in common with your abuela" (the Spanish word for grandmother). Like your abuela, the post says, Hillary does things like worry about children everywhere, and isn't afraid to talk about the importance of respecting women. She uses the Spanish word for respect, respeto, a few times.
The post contains picture of Clinton with Marc Anthony, the famous Latino singer, as well as reference to Clinton's work with DREAMers, young immigrants who have been working for their legal status.
You could see what Hillary's team was trying to do: reach out to Latinos and Spanish speakers with some specific cultural nods.
But some online thought it missed the mark. They even called it "hispandering," a mashup of Hispanic and pandering. (NPR's Shereen Marisol Meraji has written extensively about Hispandering.)
Soon after the Clinton abuela post went up, the hashtag #NotMyAbuela (or #NotMiAbuela) began to trend.