ALEJANDRO GONZÁLEZ IÑÁRRITU WINS BEST DIRECTOR OSCAR 2ND YEAR IN A ROW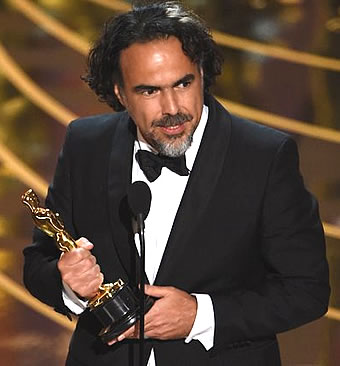 He becomes just one of only three directors in the show's 88 year history to earn such a prestigious consecutive honor.
Alejandro González Iñárritu, director of "The Revenant," took home the golden statue at the 88th annual Academy Awards, beating out fellow directors Adam McKay ("The Big Short"), George Miller ("Mad Max: Fury Road"), Tom McCarthy ("Spotlight") and Lenny Abrahamson ("Room").
This is Iñárritu's fourth Oscar. "The Revenant" also earned the statue for Best Cinematography and Leonardo DiCaprio nabbed a third golden man for the film with his Best Actor win.
"The Revenant" win is Iñárritu's second consecutive Best Director Oscar, thanks to his 2015 win for "Birdman," a feat that has happened just three times in the award show's history. He joins directors John Ford (who won in 1940 and 1941) and Joseph L. Mankiewicz (1949 and 1950). The win also makes this the third consecutive year a Mexican director has been honored, as Alfonso Cuarón took home the Oscar for "Gravity" in 2014.
Iñárritu thanked his cast and crew in his speech, including DiCaprio -- "Leo, you are the Revenant" -- Tom Hardy, and the film's Native American cast.
"I am very lucky to be here tonight, but unfortunately many others haven't had the same luck," he said, speaking to the...