LATINA TRACK STAR REFUSES TO RUN UNTIL CAMPUS ADDRESSES ETHNIC BIGOTRY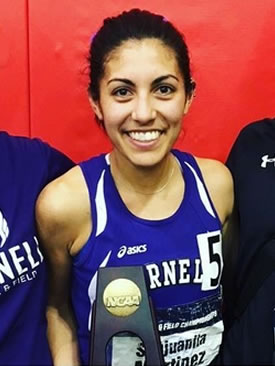 Donald Trump's comments about Latinos in the U.S. and his campaign proposal to build a wall have awakened the hate of many Republicans across the country, who now think it's adequate to call Latinos names and make jokes about deportation.
Cornell College, a private liberal arts school in Mount Vernon, Iowa, recently reported racist slanders on campus. According to sources, students at Cornell painted over an ant-immigrant display that read, "Build a wall, make it tall."
After the incident, Latino students that attend the institution joined forces to deliver a message of courage and strength, "Wall or no wall, we stand tall."
Cross country and track star, Sanjuanita "Sam" Martinez, decided to take further actions in the matter and announced via social media that was not representing the school at her races until they fixed the situation.
"Just bought a black running jersey because I refuse to wear my Cornell top until Cornell College apologizes," Martinez wrote on Twitter.
She continued, "And recognizes today's event as a symbol of racial hare and I feel included, equal, and safe on this campus."
The Mexican-American student, who is originally from Bowie, Texas, recently addressed the anti-Latino behavior during an interview and added that the graffiti was not the only demonstration of racism Cornell students have...