ORIGIN OF CINCO DE MAYO CELEBRATION: CALIFORNIA'S PRECIOUS METAL MINERS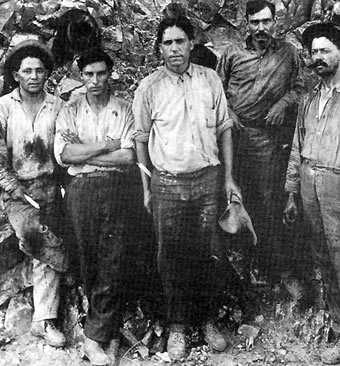 The first Cinco de Mayo celebration occurred in Columbia, CA on May 25th, 1862 when Mexican mineral miners heard about the Mexican army's defeat of French forces in the city of Pueblo, Mexico on May 5th of the same year.
To say that Cinco de Mayo is misunderstood is an understatement. To put it mildly, it's probably the most misunderstood of all U.S. cultural celebrations.
Because of the great amount of general confusion regarding the origin and real significance of this yearly occassion, I'm feeling inclined to write on it giving only the most basic information to simplify the story and set the record straight. It might also be to lessen this publication's annual burden in answering the many inquiries that often come our way. In either case, to the history buff and/or those who may actually have an interest in Cinco de Mayo beyond the mere drinking phenomena it's become today, here is the basic info to know:
The Cinco de Mayo 'celebration' (as opposed to the Battle of Puebla on May 5, 1862) is a uniquely American occassion with an origin that isn't Mexican at all. It all began in California when Mexican descent miners heard about the lesser-equipped Mexican army's defeat of the invading French military of Napolean III.
California's 'native' Mexicans were happy with the news in that California was a free state; while France was planning to help the slave owning Confederates with their war against the Union. In the 1960s, Cinco de Mayo was reinvigorated by Chicano activists as an expression of their Mexican American cultural pride.