I WAS ONCE ASHAMED OF MY MEXICAN IMMIGRANT PARENTS... BUT NOT ANYMORE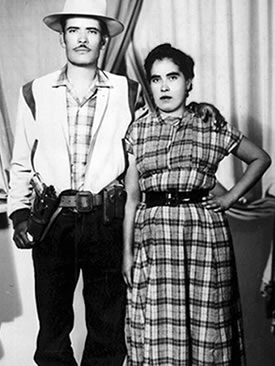 Salomón Chavez Huerta arrived in the United States as a farmworker in the Bracero program, a U.S.-Mexico guest worker program from 1942 to 1964. Carmen Mejía Huerta, his wife, toiled for more than 40 years as a domestic worker. Courtesy of Alvaro Huerta
When I first applied to UCLA, I wrote in my personal essay that I didn't have any positive role models in my violent neighborhood.
Having grown up in East Los Angeles' Ramona Gardens housing project, I wrote that most of the adults represented gang members, drug dealers, thieves, tecatos (heroin addicts), alcoholics, felons and high school dropouts (or push-outs). I also wrote about my disdain for housing authority officials and government workers for behaving like prison wardens and guards toward us: project residents who depended on government aid or welfare.
Moreover, I decried the police abuse that I had witnessed and experienced, like the time when a cop pointed a gun at me. My crime: being a 15-year-old making a rolling stop while learning how to drive.
Lastly, as the product of low-performing public schools, I highlighted the low expectations most teachers and counselors had for their poor Chicano students. Fortunately for me, I excelled in mathematics.
While I was eventually accepted to UCLA, I should have been more truthful in my essay. In fact, I did have positive role models: my Mexican immigrant parents.