MORE VIOLENCE ERUPTS AT DONALD TRUMP RALLY IN ALBUQUERQUE NEW MEXICO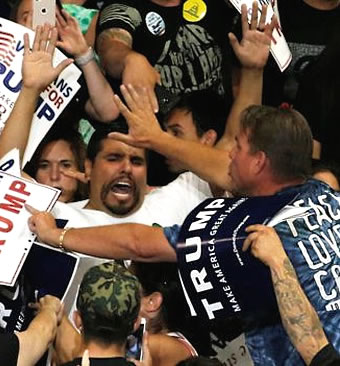 "Demonstrators outside a Donald Trump rally in New Mexico have set fire to campaign merchandise and clashed with police."
ALBUQUERQUE, NM - Protesters threw burning T-shirts and plastic bottles at police outside the rally at a convention centre in Albuquerque.
Demonstrators held banners that read "Trump is Fascist" and "We've heard enough", and some waved a Mexican flag.
Police responded by firing pepper spray and smoke grenades at the crowd.
Protesters also interrupted Mr Trump's speech at the rally.
New Mexico is the most Hispanic state in the US, and Mr Trump has angered many with his comments on illegal immigration and his plan to build a border wall with Mexico.
The protest had begun peacefully outside the Albuquerque Convention Center a few hours before the rally began.
Tensions rose as Trump supporters began to arrive at the centre, the Albuquerque Journal reports. Both sides started trading abuse, including racial insults, and protesters threw water and water bottles.
As the number of protesters swelled to...