TONY AWARDS: LIN-MANUEL MIRANDA PAYS TRIBUTE TO ORLANDO TERROR VICTIMS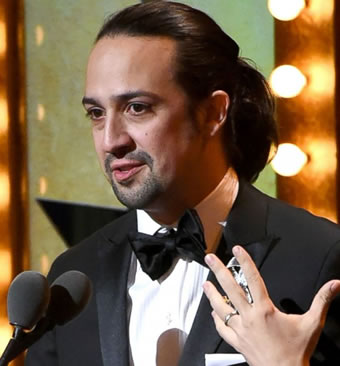 It was no surprise at all that Lin-Manuel Miranda snagged the Tony for original score for "Hamilton." What was a shocker? His acceptance speech. Or the way he delivered it.
Most everyone expected to hear rapping words of thanks from Miranda. Instead, he channeled his inner Shakespeare.
"I'm not freestylin', I'm too old. I wrote you a sonnet instead," he told the crowd, unfolding his notes.
The moving and personal words included thanks to his wife: "My wife's the reason anything gets done, she's a perfect symphony of one."
And then he gave a moving tribute to the day's tragic mass shooting:
"When senseless acts of tragedy remind us that nothing here is promised. Not one day. This show is proof that history remembers we live through times when hate and fear seem stronger, we rise and fall and light from dying embers remembrances that hope and love last longer."
His words culminated with a simple but powerful message: "And love is love is love is love is love is love is love is love cannot be killed or swept aside."