LATINOS ARE TURNING ARIZONA INTO A SWING STATE & NOT BECAUSE OF TRUMP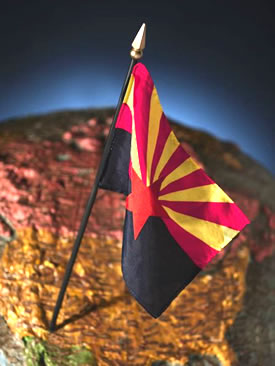 Arizona is, historically, a red state. With the exception of Bill Clinton in 1996, they've voted Republican in every presidential election since 1952. But that might be shifting this year.
The conservative Arizona Republic newspaper endorsed Hillary Clinton for president this week. It's the first time it has endorsed a Democrat over a Republican in its entire 126-year history. And here's another significant change: Latinos in Arizona are increasingly making sure they get to the voting booth.
Petra Falcon directs a group called Promise Arizona. She says her group has registered more than 46,000 new voters this election cycle alone. "Our color is yellow and we're like bumblebees out their in the neighborhoods," Falcon says.
They go door-to-door — to churches, colleges, neighborhood stores, parks — trying to sign up as many people as possible by October 10, the registration deadline for this year's national election.
An August Latino Decisions poll found that more than 80 percent of those asked in Arizona were "absolutely certain" they would vote. Only 18 percent had a favorable opinion of Republican candidate Donald Trump. But it's not just about Trump. Promise Arizona is part of One Arizona, a non-partisan coalition that was founded in 2010 when a controversial law was passed in the state.
SB 1070 was formally called the "Support Our Law Enforcement and Safe Neighborhoods Act," but critics called it the "show me your papers law"...