SAN DIEGO'S CHICANO PARK IS BOTH A NATIONAL TREASURE AND BATTLEGROUND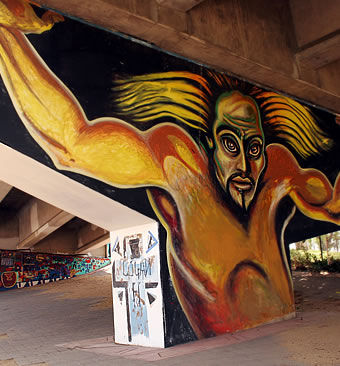 SAN DIEGO, CA - Under a bridge in San Diego is an unlikely wonderland of colorful murals known as Chicano Park.
The origins of the 8-acre park date to a tumultuous period in the early part of the 20th century as the Mexican Revolution was pushing waves of refugees north of the border.
In San Diego's Logan Heights neighborhood, so many migrants settled that they started calling the southern part of the area Barrio Logan. ("Barrio" is Spanish for "neighborhood").
Then, in the 1960s, California cleaved Barrio Logan with freeway lanes and ramps to the new Coronado Bridge. The moves set off a storm of anger and a movement to take over an area beneath the bridge.
Artists painted the concrete pylons with colorful murals depicting Chicano heroes and heritage. Over time, Chicano Park was transformed into an outdoor gallery of dozens of soaring artworks and sculptures as well as playgrounds and picnic tables. It was designated last year as a National Historic Landmark.
The tensions over President Trump's immigration policies have lately made Chicano Park a battleground in America's culture wars. A mural added to the park last year ignited criticism with its depiction of a migrant worker being strangled by immigration...