IS THE SHOUT TO 'ABOLISH ICE' A WINNNING MIDTERM MESSAGE FOR DEMOCRATS?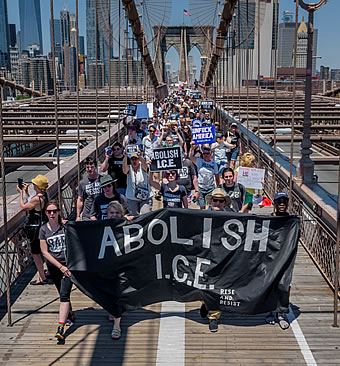 WASHINGTON - When hundreds of thousands of people turned out to protest the Trump administration's immigration policies on Saturday, many held signs bearing the slogan "Abolish ICE." Several months ago, it was mainly immigration activists calling for an end to U.S. Immigration and Customs Enforcement, but amid the anger over family separations at the border, last month several lawmakers embraced the phrase. Supporters now include Senators Kirsten Gillibrand and Elizabeth Warren, four House Democrats, New York City mayor Bill de Blasio, and a handful of candidates for office — most notably Alexandria Ocasio-Cortez, who shot to fame last week with her primary victory over House Democratic Caucus Chair Joe Crowley.
This kicked off a debate over how Democrats adopting more extreme immigration rhetoric might affect the midterms. Over the weekend Trump demonstrated how he intends to use the phrase — plus some made-up "facts" — to further his claims about his opponents' lawlessness. Meanwhile, some Democrats signaled that they aren't quite ready for the call to go mainstream within their party. While Trump responded to this year's women's marches with a single Twitter taunt, he lashed out at immigration protesters in multiple platforms all weekend. His first tweet on Saturday started with the call to "abolish ICE." ICE has not "liberated" any towns from MS-13, and when the New York Times asked for an explanation, the Trump administration declined to elaborate. CNN reported in May. There is no hard evidence that MS-13 has become more of a problem in the US...