Man Who Attacked Latinos In Utah Can't Be Charged With Hate Crime Due To Loophole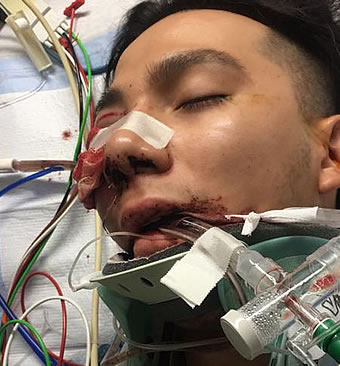 A man who attacked a Latino father and son after claiming they were part of the Mexican mafia has been charged with aggravated assault, but a Utah state law prevents him being charged with a hate crime.
Alan Dale Covington, 50, entered Lopez Tires in Salt Lake City, Utah, on Tuesday and said he was "going to kill someone," according to an indictment. Jose Lopez, 50, and Luis Lopez, 18, were working in the family's shop and Covington attacked them with a pole before fleeing the scene.
"I came out to ask if he needed anything and the first thing he said to me was, 'You guys killed my f------ daughter,'" Luis Lopez said.
Salt Lake City Police Sgt. Brandon Shearer told NBC News that they were unaware of any statements made by Covington concerning the existence of a daughter and cannot confirm whether she exists.
Luis Lopez told NBC News that he can only remember "bits and pieces" of what happened because he lost consciousness; police said he had sustained serious injuries by the time they arrived. Jose Lopez was found "kneeling on the ground holding a piece of cloth" to his son's face, according to the police statement. Both were taken to the hospital and released Friday evening.
Covington has since been charged with two felony counts of aggravated assault, a felony weapons charge and two drug-related...