MANUEL MARQUEZ KNOCKS OUT MANNY PACQUIAO

PACQUIAO VS MARQUEZ IV GIVES GREAT BOXING SPECTACLE & REDEMPTION FOR FIGHTER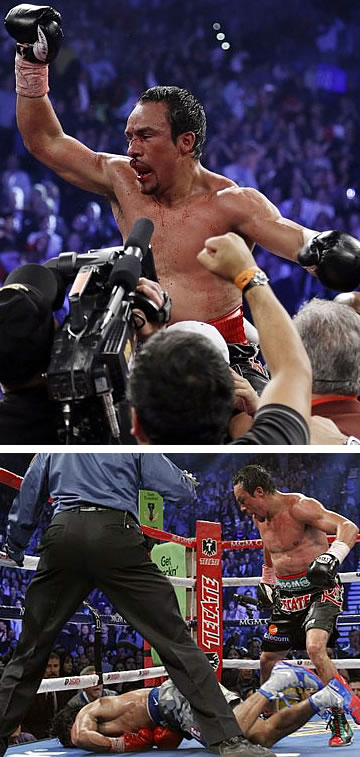 LAS VEGAS - Juan Manuel Marquez had already fought Manny Pacquiao in four grueling, razor-close fights in the past. At 39 years of age, old for a boxer, with international celebrity, money, and an impressive record of 55-6-1 (with 40 big knockouts), Marquez could have easily rested on his laurels and retired the way some of the less imaginative thought he should. But for him, the thought of finally proving definatively once and for all that he had been the superior fighter to Pacquiao in their much disputed past series of matches loomed way too large.
Pacquiao and Marquez had their first fight, on May 8, 2004. It ended in a draw with many believing that Marquez had won. They fought again in Vegas on March 15, 2008, with Pacquiao again being given the win via a split decision. Again, many believed Marquez had won. This led to the third "rubber match" with Freddie Roach, Pacquiao's trainer, saying he wanted to leave "all doubt behind." But again, many fans expressed that Marquez had won. So with the world champion Floyd Mayweather, Jr. dodging every invitation to fight Pacquiao, when Pacquiao offered Marquez a fourth big fight, he jumped at the chance.
So finally, last night on Dec. 8, 2012, Juan Manuel Marquez made the most definitive statement of all. After first softening-up the body of Pacquiao with some vicious body blows and a series of left hands, with one second to go in the sixth round, he knocked-out the former "Fighter of the Decade" Manny Pacquio (54-5-2). Manny was left unconscious.
"I knew Manny could knock me out at any time," Marquez said. "I threw the perfect punch." When Pacquiao regained his senses, he and Marquez embraced. Marquez told Pacquiao. "You're a great fighter!" Surely, it's true of them both.