RAQUEL POMPLUN - 2013 PLAYMATE OF THE YEAR

SAN DIEGO LATINA RAQUEL POMPLUN BECOMES FIRST CHICANA PLAYMATE OF THE YEAR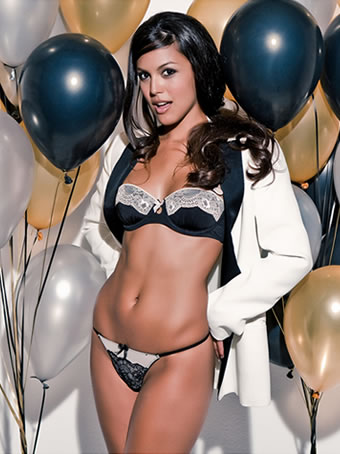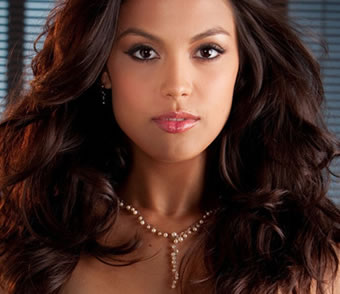 of interest concerning these two specific questions from our readership, we decided to do a little investigative research on the matter ourselves. Initially, the bigger question came up. Why is it that U.S. born Latinas are generally less visible in the American porn industry all together? If one considers their sparse number of appearances versus their percentage of the U.S. population, it is proportionatley low especially when compared to the appearance of white, black, and Asian women. Albeit, Playboy Magazine may not be considered porn or even soft porn by many people these days. It is undoubtedly an adult mens magazine which does show the full beauty of the female form, which up until now did not have a Latina Playmate of the Year. Or, did it? In speaking with Playboy's main office, it was discovered that Karen Velez of Rockville Centre, NY was the 1985 Playmate of the Year. However, being that Playboy apparently doesn't keep any ethnic data, and it couldn't be found anywhere that the Spanish-surnamed Ms. Velez has publically claimed or denied an affiliation of being Latina. Therefore, the claim that Raquel is the first Latina Playmate of the Year couldn't be validated.
So then, what of the claim that Raquel is the first Chicana Playmate? Much to the credit of this fabulous woman she'd probably have no problem claiming this title at all! But is this too also true? Or is it false? Like Karen Velez, who made her first appearance on the cover of Playboy Magazine in December 1984; another gorgeous Spanish-surnamed beauty, Roberta Vasquez, made her first appearance on the cover in the same year but a month earlier for the November 1984 issue. Being that Roberta Vasquez has been publically claiming "Spanish descent" since the '80s, was born in L.A. and even appeared in Cheech Marin's movie "Born in East LA; it's very highly likely that Roberta may actually be the first Mexican American Playmate. In either case, the public has been exceptionally fortunate to have been given the viewing pleasure of these two exquisitely beautiful Latinas. In homage to Raquel, it is most especially pleasing to see that she's very vocally proud in claiming to be Chicana!
NOTE: The first Asian American Playmate was China Lee, Miss August 1964. The first African American Playmate was Jennifer Jackson, Miss March 1965. The first (non-U.S.) Latina Playmate was Ester Cordet from Panama, Miss October 1974.