RAQUEL POMPLUN - 2013 PLAYMATE OF THE YEAR

SAN DIEGO LATINA RAQUEL POMPLUN BECOMES FIRST CHICANA PLAYMATE OF THE YEAR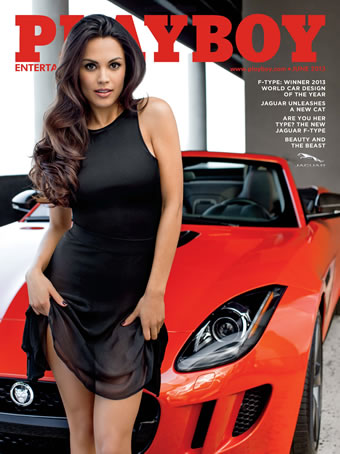 LOS ANGELES - It's been a long time coming. But finally, Playboy Magazine has announced that they've crowned the first ever Mexican American Playmate of the Year. She is Raquel Pomplun, an absolutely stunning 25 year old model, actress and ballerina, who impresses not only with her extreme good looks, but her mind as well. In addition to being a gorgeous beauty, she's also a proud Latina who's both a college educated biochemistry major and perfectly bilingual too! Hmmm... So nice... and so overdue! So, get ready America. The flood gates have just opened. Get ready for what many already knew. Beautiful, proud, and intelligent Chicanas are everywhere to be found; and they are the bomb!
Is it hard to believe that it's taken this long? Very! For those of us who are quite familiar with the great abundance of beautiful Mexican American women who live in L.A., it's hard to imagine that Hugh Hefner, with his infamous mansion located in Los Angeles, or Playboy Magazine with its headquarters located in Beverly Hills, hadn't seen a local Chicana who could carry the much ballyhooed title before.
Nonetheless, in their press release of May 9, Playboy announced that Raquel would be their "first Mexican American Playmate of the Year", in addition to their 54th young woman to be given the coveted Playmate of the Year title since its first recipient, Ellen Stratton in 1960. In response to her winning the title, Raquel responded, "I can't begin to describe how excited I am to receive this honor and be given the opportunity to represent Playboy as its first Mexican-American Playmate of the Year." She added, "Playboy has taught me a side of myself I didn't know before. It's been a year of wonderful surprises!" We would agree! In fact, more than just a wonderful year for women of Mexican descent, it's been a wonderful last couple decades.
Recently, Miss Mexico from the state of Jalisco, Ximena Navarrete, won the prestigious Miss Universe title in 2010 (read article). Miss Mexico from the state of Nuevo León, Anagabriela Espinoza, won the extremely prized title of Miss International in 2009; and preceeding this by a couple years was Miss Mexico also from Nuevo León, Priscila Perales, who also won the Miss International title in 2007.
Is Raquel Pomplun Really the First Chicana or First Latina to Win Playmate of the Year?
As can be expected, when Playboy founder Hugh M. Hefner named Raquel Pomplun the magazine's 2013 Playmate of the Year during an exclusive cocktail luncheon on the garden grounds of his iconic Playboy Mansion, much excitement within the greater U.S. Latino community immediately followed. While generally speaking, the announcement has been very well-received in the Latino American community, a few segments of the population have expressed some slight reservations. The normal factions of society that generally dislike Playboy Magazine as a matter of course have all been heard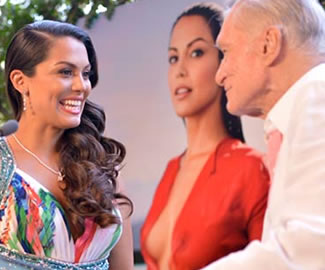 voicing their own respective concerns: i.e. the highly traditional old-fashioned Mexican mother; members of the Christian community (for which there are a great many); and a small number of somewhat always charged Chicana and other Latina feminists. However, for the most part the announcement has been met with wonderful reception, most especially amongst the great majority of all Latin men polled.
In preparation for the writing of this story, and after having noticed that many of our fellow news reporting agencies were suspiciously penning that Raquel is the "first Latina Playmate of the Year". Our staff at Xcano Media immediately contacted Playboy's head office to confirm if this was in fact true. Consequently, we also sought to discover if Raquel Pomplun is the "first Mexican American Playboy Playmate." I suppose it could be inferred that much to the credit of Playboy Enterprises and their always progressive ways, they stated that they are somewhat color-blind in that they don't tabulate any of this type of personal ethnic data. Nonetheless, because of the great amount..