JIMENA NAVARRETE WINS MISS UNIVERSE TITLE

MISS MEXICO JIMENA NAVARRETE GETS CROWN FOR MOST BEAUTIFUL WOMAN ON EARTH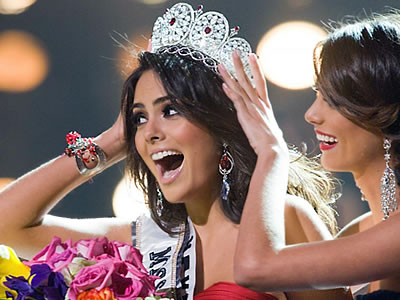 source: (AP) The Associated Press
LAS VEGAS — From flags to Facebook, 22-year-old Jimena Navarrete has quickly made it clear what she plans to promote as the world's newest Miss Universe — her home country of Mexico.
"I want the whole world to know about my country and my people," the Guadalajara native said after beating 82 competitors for global bragging rights at the pageant in Las Vegas.
"I imagine that they're all going crazy in Mexico right now," she said through an interpreter. "I'm extremely proud and I'm sure they're very proud, too."
She donned a flowing red dress, strutted confidently in a violet bikini, and said onstage that the Internet is indispensable and requires parents to impart family values.
The model-turned pageant queen then posed for pictures with a Mexican flag and Mexico's last Miss Universe as congratulations from her countrymen came pouring in.
"Her triumph is a source of pride and satisfaction for all Mexicans, who see in her the fruits of perseverance," Mexican President Felipe Calderon said in a statement. Immediately after her win, Calderon said on Twitter that her victory would help Mexico's image as a country.
"We won, long live Mexico!" Navarrete said on her fan page on Facebook, spurring 478 "likes" and 218 comments in about one hour.
She was cheered by Spanish-speaking reporters clamoring to talk with her after the pageant, and twice answered questions about Arizona's recent immigration law.
"Every country has the right to impose and enact their laws," she said, wearing her new sash and sparkling tiara. "But I tell you that all the Mexicans and the Latins that are living here in the United States are hardworking people — people who want to improve on their quality of life."
The Miss Universe pageant is known for grabbing headlines — and Navarrete appears ready to make her mark.
She's Mexico's second Miss Universe. Lupita Jones — Navarrete's national pageant director — won in 1991. Navarrete has been modeling since she was 15 and came to Miss Universe after winning for Jalisco, then Mexico, in the country's Nuestra Belleza pageant.
Navarrete replaces Miss Universe 2009 Stefania Fernandez of Venezuela. She also spoiled a bid by Miss Venezuela Marelisa Gibson from giving the South American country a third consecutive victory. Neither Gibson nor Miss USA Rima Fakih made the top 15 finalists.
With fans in some 190 countries watching on television and keeping tabs on social networks, Navarrete and her competitors introduced themselves while wearing over-the-top national costumes. They then danced in silver and black dresses for the show's opening number before the last 15 finalists were announced.
The final 15 walked in swimsuits while Cirque du Soleil musicians played Elvis Presley songs including "Viva Las Vegas." The last 10 impressed in their gowns while John Legend and the Roots played a soulful medley including "Save Room."
By the end of the show, seven of the top 10 trending topics on Twitter had to do with the pageant, its contestants, its judges or owner Donald Trump. The mogul co-owns the pageant with TV network NBC.
The show was without any major gaffes, except for Miss Philippines' answer when asked what her biggest mistake in life was and how she fixed it. "In my 22 years of existence, I can say there is nothing major," Venus Raj said. Before the pageant, Raj was rated among the top contestants in an online poll on the pageant's website. She finished in fifth place.