LATINO CYCLE BUYERS GIVEN INFLATED INTEREST RATES BY BANK & DEALERS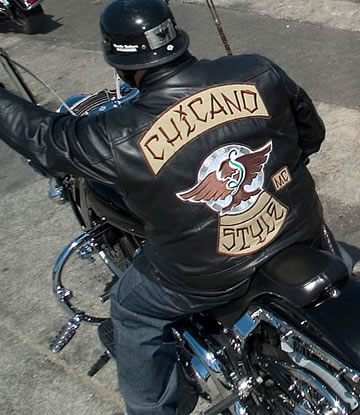 PHOENIX - Motorcycles seem to conjure up a feeling of independence and convey that image of the wind in your face and the freedom of the open road. But for some that image was tainted amidst allegations of racial discrimination and financial exploitation. That's because one of the largest motorcycle financing banks in the country systematically discriminated against thousands of Hispanic and African-American customers, overcharging borrowers inflated interest rates -- rates that were not based on credit-worthiness or any measure of risk according to federal authorities.
In a complaint filed by the U.S. Department of Justice Civil Rights Division, the government accuses Illinois-based Evergreen Bank of discriminating against Hispanic and African-American borrowers across the country who obtained loans to buy motorcycles. [ Read the complaint here. ]
Evergreen provides thousands of motorcycle loans through 400 motorcycle dealers located in all 50 states, including Arizona.
Government prosecutors say Evergreen's policies and practices allowed dealers to mark up interest rates on motorcycle loans in a hidden manner and not based on the borrower's credit-worthiness or other objective criteria related to borrower risk. From at least January 2011 to March 2014, Evergreen, through its FreedomRoad Financial operations, charged 1,500 Hispanic borrowers and 700 African-American borrowers higher interest rates for their motorcycle loans because of their national origin or race, the complaint alleges. The average victim was obligated to pay over $200 more during the term of their loan.
EVERGREEN PROFITS FROM DISCRIMINATORY INTEREST RATE MARKUPS SHARED WITH MOTORCYCLE DEALERS
The feds say Evergreen kept part of the profits it earned from the inflated interest rates they charged Hispanics and African-Americans and it paid the remainder to the motorcycle dealers. [ Mexican American News Note: Latinos we're charged an average of $250.00 more per loan than white buyers; and African-Americans an average of $200.00 more - with both groups at a criteria "not based on creditworthiness." ]
The DOJ declined to identify the dealers who got paid.
As a result of their policies and procedures, prosecutors say Evergreen created financial incentives for dealers to mark up borrowers' interest rates above those established based on the consumer's credit-worthiness or other objective criteria related to borrower risk. The government says Evergreen's actions violated the Equal Credit Opportunity Act or ECOA.
You can learn more about your rights under the Equal Credit Opportunity Act here.
You can read more about the government's allegations of discriminatory motorcycle lending against Evergreen here.
VICTIMS MAY RECEIVE COMPENSATION
Without admitting guilt, Evergreen has agreed to pay $395,000 to compensate victims of the racial discrimination who paid inflated interest rates. As part of a consent decree agreed to by Evergreen, the bank agrees to maintain policies and procedures that have been designed to ensure that the interest rate on motorcycle loans is set in a nondiscriminatory manner consistent with the ECOA.
In addition, Evergreen will compensate certain African-American and Hispanic borrowers. If you bought a motorcycle and got a loan from Evergreen you may be eligible for compensation. If you qualify for compensation, you will be contacted by the administrator and you don't need to contact the Department of Justice at this time. Individuals who believe they may have been victims of lending discrimination by Evergreen and have questions about the settlement may contact the department at 202-514-4713.
You can read the Evergreen Consent Order here.
If you are one of the victims in this case and you want us to tell your story, contact me at 602-685-6365.