Chicano Biker Community Gathers For 9th Annual Chicano Pride Ride On May 4th, 2019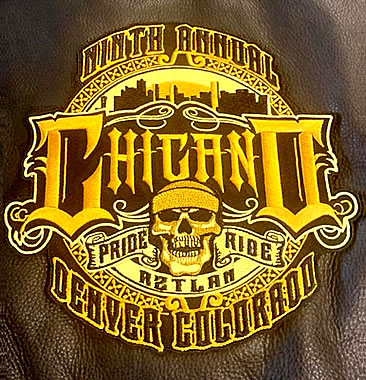 DENVER - Chicano bikers are like the majority of most other bikers in our society. Amongst them, there is a strong developed sense of brotherhood (and sisterhood) that's engrained in the persona for those who love to ride. However, for the Chicano biker, while they do share this sense of fellowship with all others in the motorcycle riding community; there is an additional sense of belonging within the Mexican American community itself that does provide a strong feeling of pride for their shared cultural heritage as well.
In U.S. society, Mexican American motorcycle riders have always been somewhat of a hidden subcultural gem. When a group of them arrives at any location you will usually know it. Often, there is a great amount of brilliance and pride of ownership in the bikes that are seen. Some are customized, with most in the least being highly polished to give a beautiful reflective shine. In decades of the past, a particular clean style of fashion was also a significant part of the Chicano biker's lifestyle. ( see video )
Lately, Chicano bikers have been in the news more often than the norm. The amount of reportage on the FX network's hugely popular Mayans MC television series, along with different reports of some Chicano motorcycle clubs' (MCs) recent troubles with the law are a simple testimony to that.
However, despite the recent reportage on both real and fictional outlaw bikers being given to the public, it should be noted that the overwhelming majority of most Chicano bikers are just regular people holding respectable jobs - who also happen to have a huge passion for riding with the wind.
Denver's Chicano Biker Scene Creates 9th Annual Chicano Pride Ride and Showing of Unity In The Community
On Cinco de Mayo weekend, Chicano and other bikers from many backgrounds get together for an annual poker run known as the Chicano Pride Ride. Originally, what started off as a small group of about 200 local Denver metropolitan area Chicano bikers, has now grown to become an event that last year had over 1,400 registered participants with many of the bikers coming from places much further away.
When asked about the origin and inspiration for creating the poker run, the event's main organizer, Manny Arellano said, "Back in the day, I owned a bar (Primetime Sports Bar) and we (the Chicano bikers of Denver) wanted to start something to help our community. Me and a bunch of guys that I rode with wanted to give back to the community." In further questioning on how the Chicano Pride Ride does benefit the community he replied, "We all kind of understood that we uh.. we all kinda looked a little rough you know, and so forth. But, we wanted to help our community. So, we started a ride like this. And, all of the money we raised, we donated it to local organizations here in Denver."
This tradition of helping local Denver area nonprofits started with the first poker run held in 2010, which at the time was initially called the "Chicano Pride Ride Raza Run", said Arellano. The first organization to be helped was a local Denver nonprofit called Servicios de La Raza. Run by its executive director Rudy Gonzales, Servicios de La Raza embodies the phrase "for the people, by the people." Rudy is the son of legendary Chicano activist, poet and boxer, Rodolfo "Corky" Gonzales, who also founded the Crusade For Justice in 1965. In 2016, Rudy Gonzales was given President Barack Obama's White House award of being a "Champion of Change for the Affordable Care Act."
In recent years, the Chicano Pride Ride has been raising funds in support of Denver students seeking to obtain a higher education in college through the local nonprofit organization, Latin American Educational Foundation. This latest focus of support is spearheaded by the LAEF's executive director Jim Chavez who when speaking to Xcano Media expressed great appreciation for the Chicano Pride Ride's support.