HOW JESSICA ALBA BUILT A 1 BILLION DOLLAR COMPANY SELLING PEACE OF MIND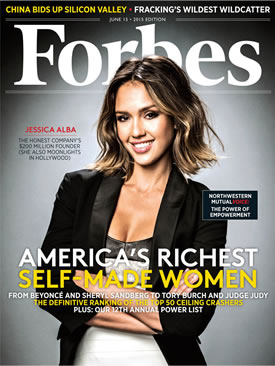 It's Kombucha Thursday at the Santa Monica headquarters of The Honest Company, which means that groups of young, stylish workers gather at communal tables in a converted toy factory to slurp fashionable fermented tea. Jessica Alba, Hollywood star and company cofounder, sits in the adjacent room. She'll join her troops shortly, but for now she's transfixed by a box of tampons that looks more like it holds an expensive candle than Kotex. "Dope!" she declares, approvingly.
"We're using all-organic cotton and plant-based polymer and a bio-plastic applicator," says the 34-year-old actress earnestly, contrasting that with the plastic content of drugstore tampons and their effect on hormones. Honest's new feminine care line launches in July.
Alba can go similarly deep on almost all of The Honest Company's 120 products, whether the ingredients in a new organic beeswax sunscreen or the clever insulation pocket hidden inside a chic $170 vegan-leather diaper bag. Yes, she has a pretty face — it seems as if every men's magazine has named her the most beautiful woman in the world at some point — but it's the details from which great fortunes stem.
Details and hard work. Alba laughs about how she once worked an 86-hour week as the star of James Cameron's sci-fi TV series, Dark Angel — the series that launched her career. Now, she says, she spends those 86 hours at a vintage teal blue desk, overseeing marketing and brand development for a company that feeds a growing demand for safe, nontoxic products, particularly among young helicopter parents who treat children — and what goes near or inside them — like porcelain.