GEORGE LOPEZ ENCOURAGES PHOENIX CROWD TO CALL DONALD TRUMP A "PU**"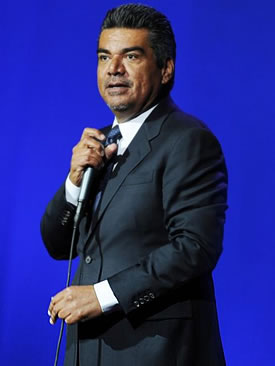 PHOENIX: George Lopez may or may not be the new host of "Celebrity Apprentice" – now that Donald Trump is running for president – but the comedian does have something to say to the real estate tycoon that's sure to have his perfectly coiffed hair in a tizzy.
During a show in Phoenix over the weekend, Lopez declared:
"This country is better with Latinos in it."
The Mexican-American comedian then encouraged the crowd to chant "f**k that puto" over and over again as he said Trump's name.
According to Urban Dictionary, puto is a:
"spanish word for a male prostitute. sometimes it´s offesive [sic] for homosexuals. in mexico it is used for cowards and traitors."
Lopez was one of many, many people offended by Trump's repeated comments about Mexican immigrants, in which Trump claimed that those crossing the border were "rapists" and "criminals." The statements brought Trump a boost in the polls, but also cost him broadcast partners for his Miss USA Pageant and several corporate and media sponsors.
Considering Trump's comments toward former POW (and current Arizona senator) John McCain, it will be interesting to see what he would think about being called a "puto."