PROF. RUDOLFO ANAYA TO RECEIVE NATIONAL HUMANITIES MEDAL FROM OBAMA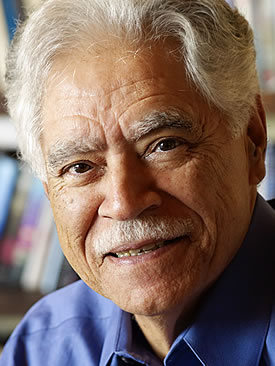 Called the 'Dean of Chicano writers', University of New Mexico Professor Emeritus and author Rudolfo Anaya is being honored by President Barack Obama as one of 12 recipients of the 2015 National Humanities Medal.
Anaya, whose works include Bless Me, Ultima and Tortuga, will be celebrated by the President and First Lady at a White House ceremony on Sept. 22 in conjunction with the awarding of the National Medal of Arts. Other recipients of the 2015 National Humanities Medal include a poet, physician, historian, chef, a higher education program and several other authors. "I'm very glad my work represents New Mexico and this medal is for the all of the people of New Mexico," said Anaya. "I am excited to attend the ceremony and look forward to meeting all of the other recipients."
A National Endowment for the Humanities (NEH) news release says the New Mexico author will be honored "for his pioneering stories of the American southwest. His works of fiction and poetry celebrate the Chicano experience and reveal universal truths about the human condition—and as an educator, he has spread a love of literature to new generations." Anaya completed his B.A. and two Master's degrees at UNM before becoming a professor of English at the University. He taught at UNM until 1993 and still contributes to the campus community in many ways, including through his support of an annual lecture series on literature of the Southwest. "That Professor Anaya has been named a 2015 National Humanities Medalist is an incredible honor for him, the English Department and UNM in general," said Anita Obermeier, chair of UNM's Department of English. "Professor Anaya is one of...