OBAMA GIVES IMMIGRATION PLAN TO PROTECT 5 MILLION FROM DEPORTATION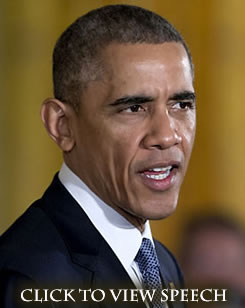 WASHINGTON D.C. - Last night President Obama made an extremely bold move. It may have been one of the bravest if not the wisest displays of his highly troubled administration to date.
During a live televised speech aired only by PBS, Telemundo and Univision outside of the cable networks, he outlined his plan to shield up to 5 million undocumented immigrants from the threat of deportation. Additionally, in this unilateral executive order bypassing Congress, he introduced his plan of action to re-direct law enforcement's priorities away from the pursuit of our many undocumented misdemeanor offenders and more toward the capture of true hardened criminals.
Obama's immigration plan also makes allowances for high-skilled undocumented workers to move or change jobs more easily, and streamline both the visa application and court procedures.
Although, it's not unprecedented for an American president to use executive powers for granting a "quasi-legal status" for certain categories of unauthorized immigrants. President Obama is doing this at a time when the country's polling is showing heavily against this type of action.
According to a recent Wall Street Journal / NBC poll conducted on Nov. 14-17 using a small sample of only 1000 respondents nationwide, nearly half of the American population polled said they oppose any type of executive action on immigration. Thirteen percent say that they should be allowed to stay legally but not allowed to apply for citizenship. Thirty-two percent said they should be required to leave the country. Republicans and whites were the most vehemently opposed to decreasing deportations. Democrats, Latinos, blacks, women, and young adults between the ages of 18 and 29 are much more likely to support a pathway to citizenship.
Because Obama bypassed Congress with this executive order, Republicans are now vowing to enact some punitive measures in response.