EVA ASSERTS "MY FAMILY DIDN'T CROSS THE BORDER. THE BORDER CROSSED US"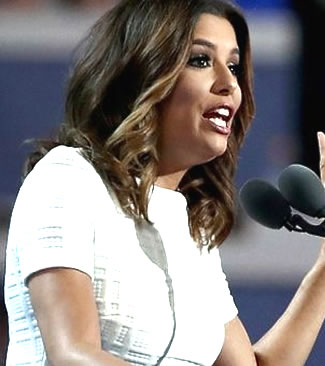 PHILADELPHIA – Eva Longoria took the podium at the Democratic National Convention with a powerful speech about her family's immigrant past.
The actress was among the various speakers at Monday night's opening night in Philadelphia. She spoke about her personal experience as a Mexican-American living in the U.S.
"He comes to the United States to protect people here," his dad said. "And they take his life."
"I'm from a small town in South Texas, and if you know your history, Texas used to be part of Mexico," Longoria, 41, said. "I'm ninth-generation American. My family never crossed the border, the border crossed us."
The former "Desperate Housewives" actress was referring to claims by GOP presidential nominee Donald Trump who has said that among those who cross the Mexican border are "criminals" and "rapists."
"When Donald Trump calls us criminals and rapists, he is insulting American families," Longoria said. "My father is not a criminal or rapist. In fact, he is a United States veteran."
She went on to attack Trump even further. "When Trump cruelly mocked a disabled reporter, he was also mocking my special-needs sister Lisa and many like her," she said. "When he said that a wife who works is a very dangerous thing, he not only insulted me, he insulted my mother..