AN AZTEC WARRIOR CRUSHES THE VIKING WARRIOR

VELASQUEZ BECOMES UFC HEAVYWEIGHT CHAMPION NEW 'BADDEST MAN ON THE PLANET'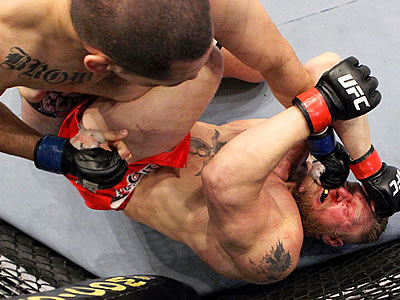 ANAHEIM, CA — Leading up to the matches at UFC 121, much to the surprise and chagrin of many in the Mexican-American community and sporting circles, there had never been a true 'heavyweight' champion of Mexican descent in any combat sport. Last Saturday on Oct. 23, 2010, at a sold-out Honda Center in front of a frenzied Southern CA crowd, the wait for a larger man champ ended as rising star Cain Velasquez of Salinas, CA became the new UFC Heavyweight Champion of the World. ¡Bravo!
Most notably, Velasquez did it in an astonishing fashion where he literally beat the former champion Brock "The Viking Warrior" Lesnar down to the ground making him an unsightly bloody mess. In what was clearly a one-sided dominant performance by Velasquez, many outside of the MMA (Mixed Martial Arts) community were shocked with the outcome of this fight. Even some within the profession were quite surprised with the stunning manner in which the new champion dethroned the old. Prior to the bout, Lesnar had been considered by many to be nearly invincible with his large 265 lb, 6' 3" stocky frame, U.S. National (NCAA Division 1), and WWE Superstar Heavyweight Wrestling Championship credentials. Lesnar is also considered to be unusually fast and agile for his size.
While it appears that many were surprised by the results of last night's fight, there are two people who certainly weren't - the fighter himself and his trainer Javier Mendez. From the first day Cain stepped into the American Kickboxing Academy (AKA) gym in San Jose four years ago, his trainer Javier Mendez has stated that he knew the former Arizona State University wrestler would be a future champion. Mendez was in a good position to know being a two-time world champion kickboxer himself. In addition to the incredible work ethic and talent of this young champion, what many along with his trainers have also noticed is the gentle nature and humility that Velasquez also exhibits. "He's not going to get a big head." said Mendez. "He wants to be an all-time great in the sport and winning the title is just the first step. You don't become an all-time great with just one big win." Reminiscent of the great class always exhibited by fellow Chicano fighter Oscar Del Hoya during his string of victories leading to 10 world titles in six different weight classes of boxing, Cain has never been arrogant about himself or his chances against his opponents. Unlike Lesnar, who after having given himself the self-proclaimed title of "Baddest Man on the Planet" and mocked both Velasquez's chances of beating him and also his Latino heritage by quipping in a pre-fight interview, "You're (Cain) not better than me.. When I get done whipping your ass.. I'm gonna go drink a Corona and eat a burrito just for your Hispanic heritage. How about that?" Cain never responded in kind with any disparaging remarks about Lesnar either before or after the fight. Instead,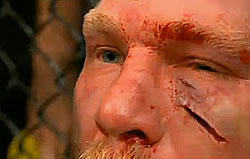 Cain would intelligently state that he wouldn't reveal any secrets or strategies as to how he would beat Lesnar - just that he would do it by not leaving anything behind. When referring to his training camp with Mendez and the AKA team in preparation for the fight, Cain simply stated, "We're gonna attack him everywhere that we can." Force of will notwithstanding, this is exactly what happended as Lesnar was eventually ripped of his fighting spirit, sent shreiking to the canvass in pain, and reduced to a bloody pulp while curled-up in a ball. After the fight when being interviewed by UFC announcer Joe Rogan and questioned about whether he was surprised by the quick outcome, Cain said, "I trained for a five round fight... I wasn't expecting an early stoppage." Lucky for Lesnar the referee Herb Dean stopped it in the first. It's uneasy to image what Lesnar's face would have looked like had the fight continued longer.
With regard to the deep tradition of our best and most respected Chicano and Mexican national fighters knowing how to keep their public composure and dignity by being neither too arrogant nor overy disrespectful of their opponents, it appears that the newest champion's natural temperment is such that he'll have no problem respresenting the Mexican-American community well.
While the prize fighting community is most certainly relieved to see a new world champion who can display both grace and humility inside and outside of the ring, none are more relieved than the Mexican-American community itself. Already, only three days after his victory the champ made his first appearance on (continued)