FORMER CLINTON OFFICIAL: HILLARY TO PICK JULIAN CASTRO AS RUNNING MATE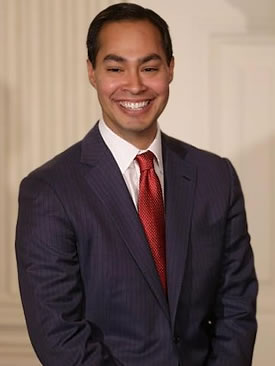 A former top Clinton administration official predicted Sunday that Hillary Clinton will pick Julian Castro as her running mate if she wins the 2016 Democratic presidential nomination.
"What I am hearing in Washington, including from people in Hillary Clinton's campaign, is that the first person on their lists is Julian Castro, the Secretary of Housing and Urban Development, who used to be the Mayor of San Antonio," Henry Cisneros, the Housing and Urban Development Secretary under President Bill Clinton, said Sunday on Univision's "Al Punto" program.
"They don't have a second option, because he is the superior candidate considering his record, personality, demeanor and Latin heritage," Cisneros added.
"I think there is a very high possibility that Hillary Clinton may choose Julian Castro," he said.
Castro's political star has risen consistently since he first rose to national prominence after delivering the keynote address at the 2012 Democratic National Convention — the first Latino to ever do so.
Castro's 2012 inspiring speech was compared by many to Barack Obama's own keynote speech at the 2004 Democratic National Convention, when he was still an Illinois state senator, which launched his own reputation as a political star.